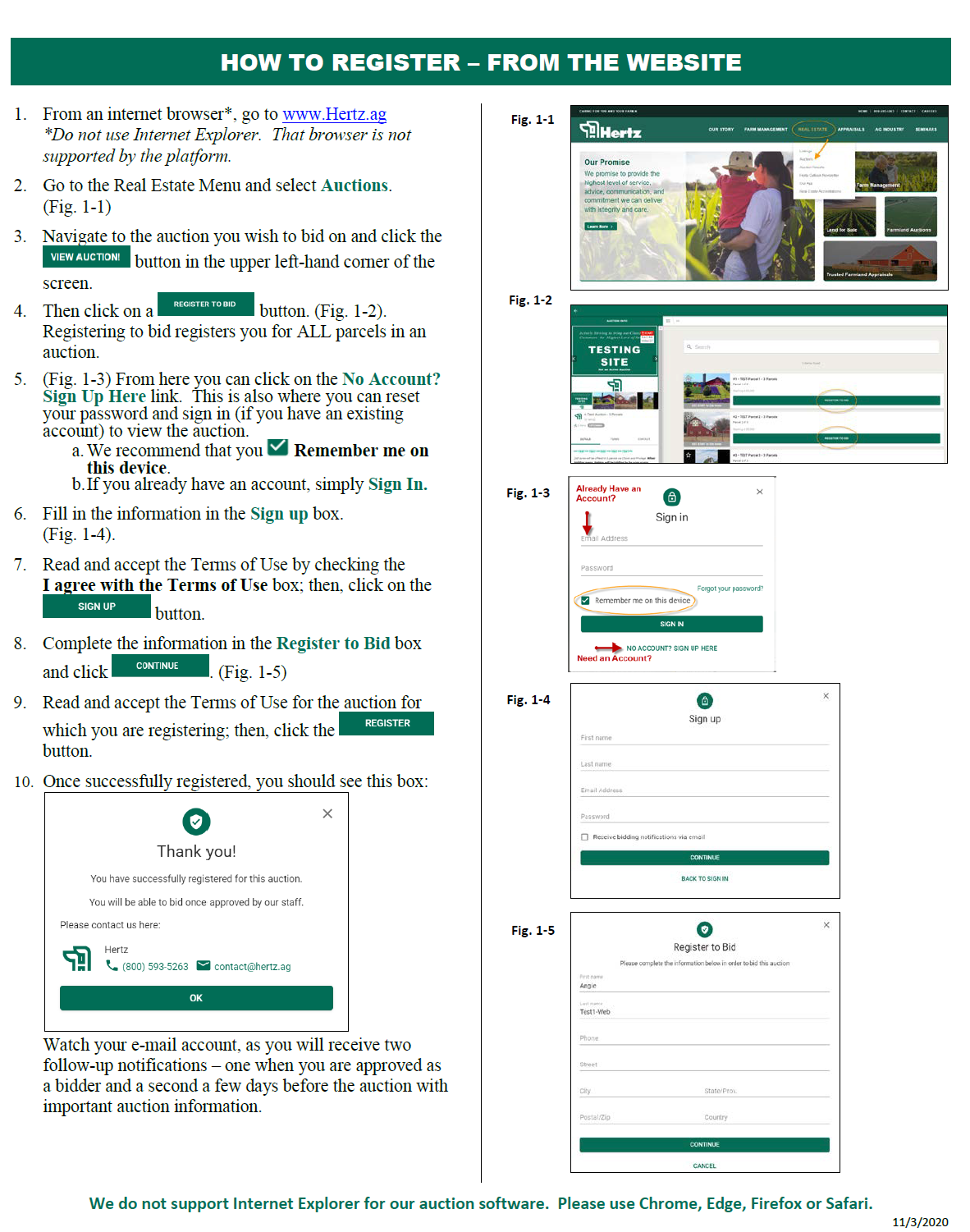 How to Access & Navigate the Bidding Platform

(Click to Print)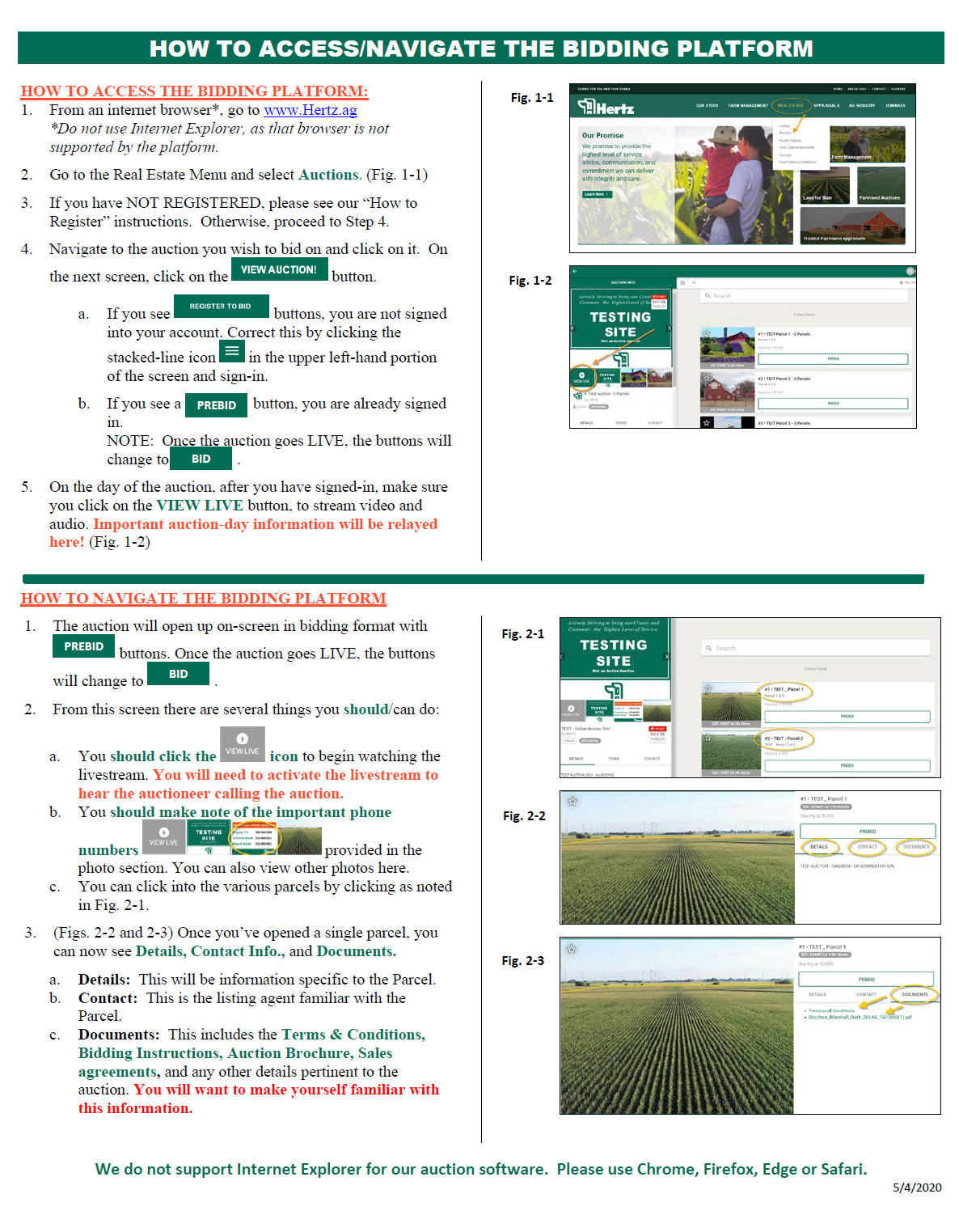 How to View a Virtual Live Online Auction

(Click to Print)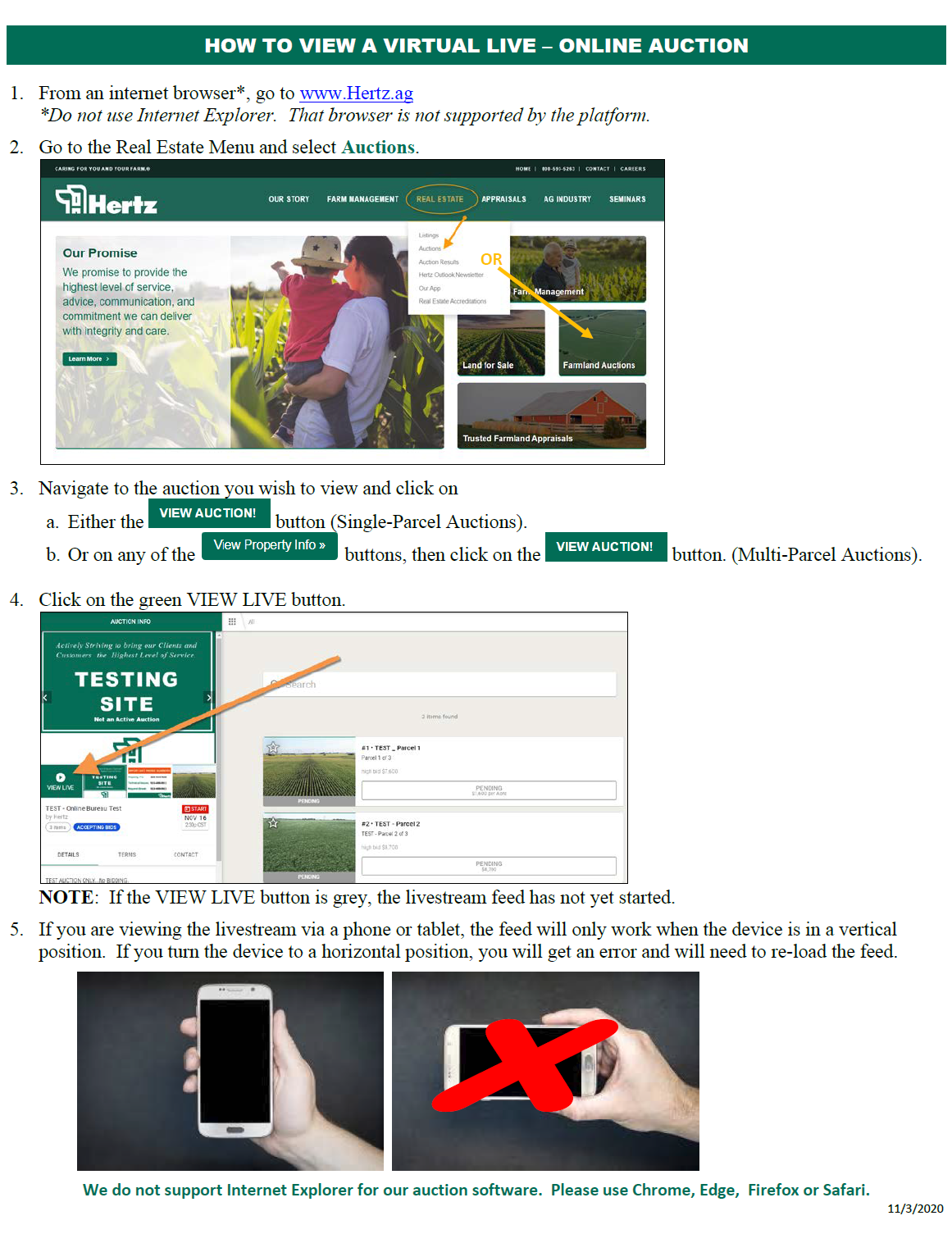 Webinar Questions & Answers
Landowner Educational Webinar - Iowa Focus
Landowner Educational Webinar - Illinois Focus
Landowner Educational Webinar - Nebraska Focus
Landowner Educational Webinar - Minnesota Focus

Thanks for your feedback!
COVID-19 Update: Steps We're Taking
As the novel coronavirus (COVID-19) outbreak is now directly impacting all our communities, we want to assure you that we're here for you – ready to listen, support and help navigate these challenges together.
What to expect at a Hertz Farmland Auction
Additional Steps We Are Taking to Limit the Spread
The changes we are making include enhancing cleaning and disinfecting policies, limiting in-person meetings, limiting person-to-person contact, staggering work hours, working remotely, among others. These temporary changes may result in some inconveniences and slightly longer response times than normal.
Take care of yourself and your family. We'll continue to take care of your farm. We are all in this together.
Find a Farmland Professional
Commodity Markets: Symbol Search
Commodity Markets: Future Detail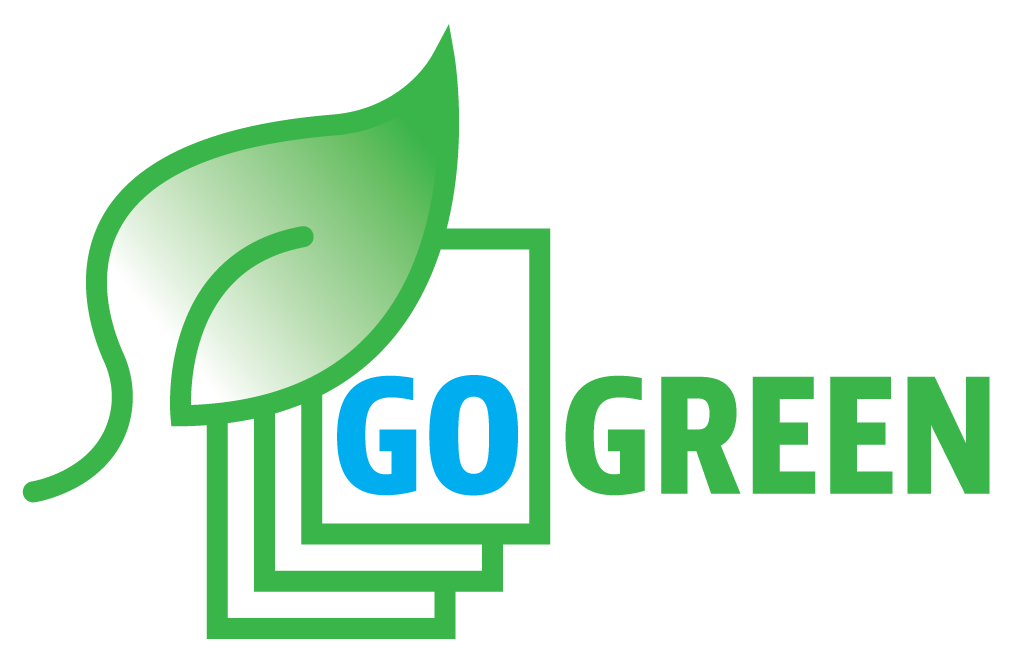 Sign up to receive your Ag Update electronically!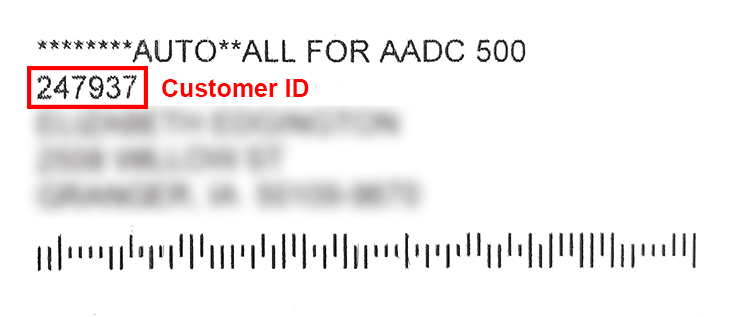 You are now connected to the Hertz network. Unauthorized access is prohibited.
Thank you!
Thanks for applying! We'll follow up with you after we have reviewed your application.
Agriculture Improvement Act of 2018
On December 11th, 2018, the Senate passed the Farm Bill Conference Report (Agriculture Improvement Act of 2018) on a bipartisan vote of 87 to 13. It was approved by the House on December 12th, 2018, with a 369-47 vote. President Trump signed the Agriculture Improvement Act of 2018 into law on December 20th, 2018 which will remain in force through 2023, although some provisions extend beyond 2023.
Nutrition policy, particularly the Supplemental Nutrition Assistance Program (SNAP), will continue with minor changes. Crop insurance options and agricultural commodity programs will exist much as under the 2014 Farm Act. All major conservation programs are continued, although some are modified significantly. The Congressional Budget Office (CBO) projects total outlays between 2019-2023 to amount to $428 billion.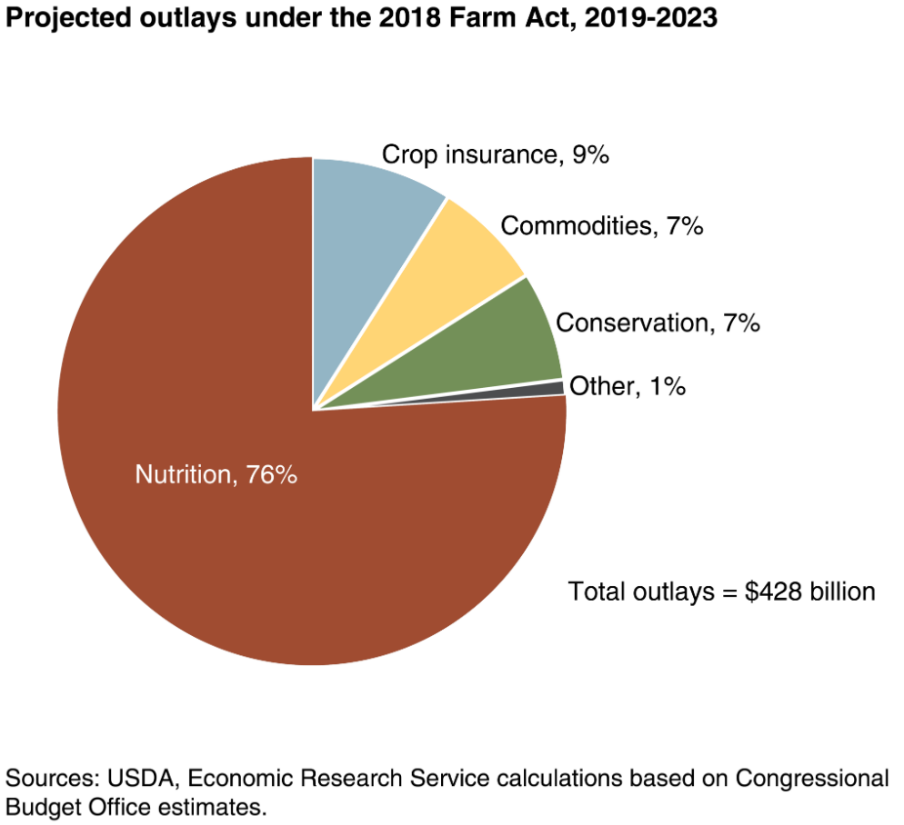 Overall the Agriculture Improvement Act of 2018 is estimated by CBO to spend $867 billion over a 10-year budget window of FY2019-FY2028. Below is a Summary of the major provisions of the Commodity, Conservation and Crop Insurance Titles.
Commodity Title
The commodity title continues the Price Loss Coverage (PLC) and Agricultural Risk Coverage (ARC) programs with modifications and discontinues the Agricultural Risk Coverage-Individual Coverage option. Under the 2014 farm bill, producers were allowed a one-time choice between ARC and PLC on a commodity-by-commodity basis, with payments made on 85% of each commodity's base acres. To increase producer flexibility, the 2018 farm bill provides producers the option in 2019 of switching between ARC and PLC coverage, on a commodity-by-commodity basis, effective for both 2019 and 2020. Beginning in 2021, producers again have the option to switch between ARC and PLC on an annual basis.
Price Loss Coverage - as the name implies, this program protects against a drop-in price. The price difference is multiplied by historical yield and 85% of base acres for that crop. The bill allows farmers to update, their program yield (based on 90% of 2013 -- 2017 average. In addition, an escalator provision was added that could potentially raise a covered commodity's effective reference price (used to determine the PLC per-unit payment rate) by as much as 115% of the statutory PLC reference price based on 85% of the five-year Olympic average of farm prices.
Agricultural Risk Coverage is a revenue program. To avoid the disparity in ARC payments that some neighboring counties experienced in recent years the 2018 farm bill reprioritizes how data is calculated. The change is expected to allow ARC calculations to better reflect significant yield deviations within a county. Also, ARC will use a trend-adjusted yield, as is done by RMA for the federal crop insurance program. This has the potential to raise ARC revenue guarantees for producers. Finally, the five-year Olympic average county yield calculations will increase the yield floor (substituted into the formula for each year where the actual county yield is lower) to 80%, up from 70%, of the transitional county yield This yield calculation is used to calculate the ARC benchmark county revenue guarantee.
Unchanged from the 2014 farm bill, both ARC and PLC programs are subject to an Adjusted Gross Income test (three year $900,000 AGI) and payment limits of $125,000 per individual ($250,000 per married couple). No changes were made to the "actively engaged in farming" criteria used to determine whether an individual is eligible for farm program payments. The definition of family farm is expanded to include first cousins, nieces, and nephews, thus increasing the potential pool of individuals eligible for individual payment limits on family farming operations.
The payment limit includes marketing loan payments as well. Marketing assistance loan rates are increased for nearly all program crops including corn and soybeans. Marketing assistance loan rates are used to establish the maximum payment under PLC. Thus, raising the loan rate for a commodity lowers its potential PLC program payment rate.
The 2018 Farm Bill expands payments for livestock losses caused by disease and for losses of unweaned livestock that occur before vaccination. The law amends the limits on payments received under select disaster assistance programs—of the four disaster assistance programs, only the livestock Forage Program (LFP) is not subject to the $125,000/person payment limit. The AGI requirements are left unchanged.
Conservation Programs
The Agriculture Improvement Act of 2018 reforms the Conservation Reserve Program (CRP) to allow for an increased acreage cap of 27 million acres by FY2023 compared to the FY2019 acreage cap of 24 million acres. This 12.5% acreage increase will be implemented in conjunction with reductions in rental rates, cost-share and incentive payments to participants. General CRP enrollment will be capped at 85% and continuous CRP will be capped at 90% of the average cash rental rates in the county for soil types that are similar.
The enacted farm bill addresses agricultural conservation on several fronts. For one, it reauthorizes the two largest working lands programs—the Environmental Quality Incentives Program (EQIP) and the Conservation Stewardship Program (CSP)— while reducing the overall funding allocated for these two programs. CBO projects that the enacted bill would increase funding for conservation by $555 million in the short term (FY2019-FY2023) and reduce funding by $6 million in the long term (FY2019-FY2028).
The Agricultural Conservation Easement Program (ACEP) is reauthorized and amended in the 2018 farm bill. ACEP provides financial and technical assistance through two types of easements: (1) agricultural land easements that limit nonagricultural uses on productive farm or grasslands and (2) wetland reserve easements that protect and restore wetlands. Most of the changes to ACEP focus on the agricultural land easements in which USDA enters into partnership agreements with eligible entities to purchase agricultural land easements from willing landowners.
The law also expands grazing and commercial uses on CRP acres and provides options for new and limited resource producers for transitioning CRP land.
Crop Insurance
The federal crop insurance program offers subsidized crop insurance policies to farmers. The Federal Crop Insurance Corporation (FCIC), a government corporation within USDA, pays part of the premium (about 63% on average in crop year 2017) while policy holders—farmers and ranchers—pay the balance. No adjusted income (AGI) test is applied to the crop insurance program.
Within the 2018 farm bill's Crop Insurance title, the section with the highest projected increase in outlays ($90 million increase over FY2019-FY2028, Section 11109) expands coverage for forage and grazing by authorizing catastrophic level coverage for insurance plans covering grazing crops and grasses It also allows producers to purchase separate crop insurance policies for crops that can be both grazed and mechanically harvested on the same acres during the same growing season and to receive independent indemnities for each intended use. The section in the 2018 farm bill with the highest projected reduction in outlays ($125 million over FY2019-FY2028, Section 11110) raises the administrative fee for catastrophic level coverage from $300 to $655 per crop per county.
The 2018 Farm Bill adds hemp to the definition of eligible crops for federal crop insurance subsidies.
The 2018 Farm Bill includes improvements to the Whole Farm Revenue Protection (WFRP) policy that will provide more meaningful risk protection, especially for small and beginning farmers.
Grain Marketing
Skills
The skills involved in marketing today encompass more than a general outlook of the agricultural economy. Successful producers analyze their ability to carry risk and develop a disciplined strategy to market their commodities.
Marketing Committee
Hertz Farm Management utilizes a marketing committee to formulate a marketing plan tailored towards the individual goals and objectives of the owner. The committee's purpose is to remove emotion from our decision making process as well as customize our objectives to a more personalized approach for each farm. The objectives are reviewed by conference call every two weeks and updated as market conditions change. The committee also makes production estimates as to the size of the domestic and world crops which ultimately effect the price received.
Every Client is Different
We realize every client is different in terms of personality, risk preference, understanding of the futures market, and size of the crop produced. It is important to evaluate risk-carrying ability, the availability of on-the-farm storage, and our anticipation of market direction. We maintain a goal of selling the client's crop in the upper one-third of the market. It is important to note that a crop is usually not all sold at one time, but marketed during different time periods and rallies. A marketing plan is developed for each crop year before planting. Up to one-half of the crop may be forward contracted to take advantage of higher prices offered prior to planting.
Farm Managers
Hertz Farm Management has what we feel are the best trained and most knowledgeable farm managers in the industry. Our managers are comfortable with market alternatives and can customize a marketing plan to fit the goals and objectives of each landowner.
Leases
There are several types of leasing arrangements that can be negotiated. The exact terms of the lease will vary depending upon market conditions and individual situations. The return and risk of each type of lease should also be considered.
50-50 Crop Share Lease
Historically, it was assumed that the land resource, provided by the landowner, was equal to the operator's contribution of labor and machinery. Over the years, this was the most common type of lease. The crop income and crop expenses are divided equally between the land owner and farm operator. With higher crop yields and less tillage, the trend has been away from 50-50 crop share leases.
50-50 Crop and Livestock Lease
In addition to sharing the crop income and expenses noted above, the landowner participates in the livestock production with the farm operator. The specific lease terms depend on the type of livestock and the livestock facilities.
Modified Crop Share Lease
In addition to the land, the landowner provides all of the seed, chemicals, and fertilizer. The operator provides the machinery, fuel, and labor. Each party is responsible for drying and storing his respective share of the crop. The owner receives from 72 to 78 percent of the crop depending on the quality of the land. This arrangement will normally provide a higher return to the landowner as compared to the 50/50 crop-share lease.
Custom Operation
The owner receives the entire crop and government payments.
The owner pays for all the cropping expenses.
A farmer in the local community is paid to till, plant, and harvest the crops.
Most progressive and timely operators have more than an adequate line of equipment to farm their current operation and are interested in custom farming to have a guaranteed cash flow. As they already have their equipment and labor, their only cost is fuel and repairs. The custom operation will generate a higher net income on above-average land, particularly with favorable yields and commodity prices.
Percentage Lease
A percentage lease is similar to a cash rent lease. However, the owner receives a specified percentage of corn or soybeans delivered to an agreed grain terminal or location and a percentage of the government payment. The operator pays all expenses. This gives the owner some inflation protection and the ability to increase his return through effective grain marketing. Once again, it is important to evaluate the credit worthiness of the proposed operator and to evaluate the herbicide, fertilizer, and method of farming to protect your land investment. Improper application rates and farming methods can reduce the production potential of the farm. Generally, the owner's percentage varies from 30% to 40% depending on the quality of the land.
Cash Rent
An operator pays a set amount of cash and the landowner does not participate in the crop production. Usually, one-half of the rent is paid on March 1 and the balance is paid after the harvest is completed. It is important to evaluate the credit worthiness of the proposed operator and to evaluate the herbicides, fertilizer, and method of farming to protect your land investment. Improper application rates and farming methods can reduce the production potential of the farm. It is equally important to execute a UCC-1 financing statement to ensure collection of the rent.
Please contact us to discuss leasing alternatives and an estimate of net income for your farm.

Ag Update Newsletter
Get to know our clients as they tell their story of farmland ownership and what it means to them and their families. Gain a better understanding of conservation and stewardship practices that are being implemented across the Midwest. Learn about the factors impacting the commodity markets and land values.
Current Issue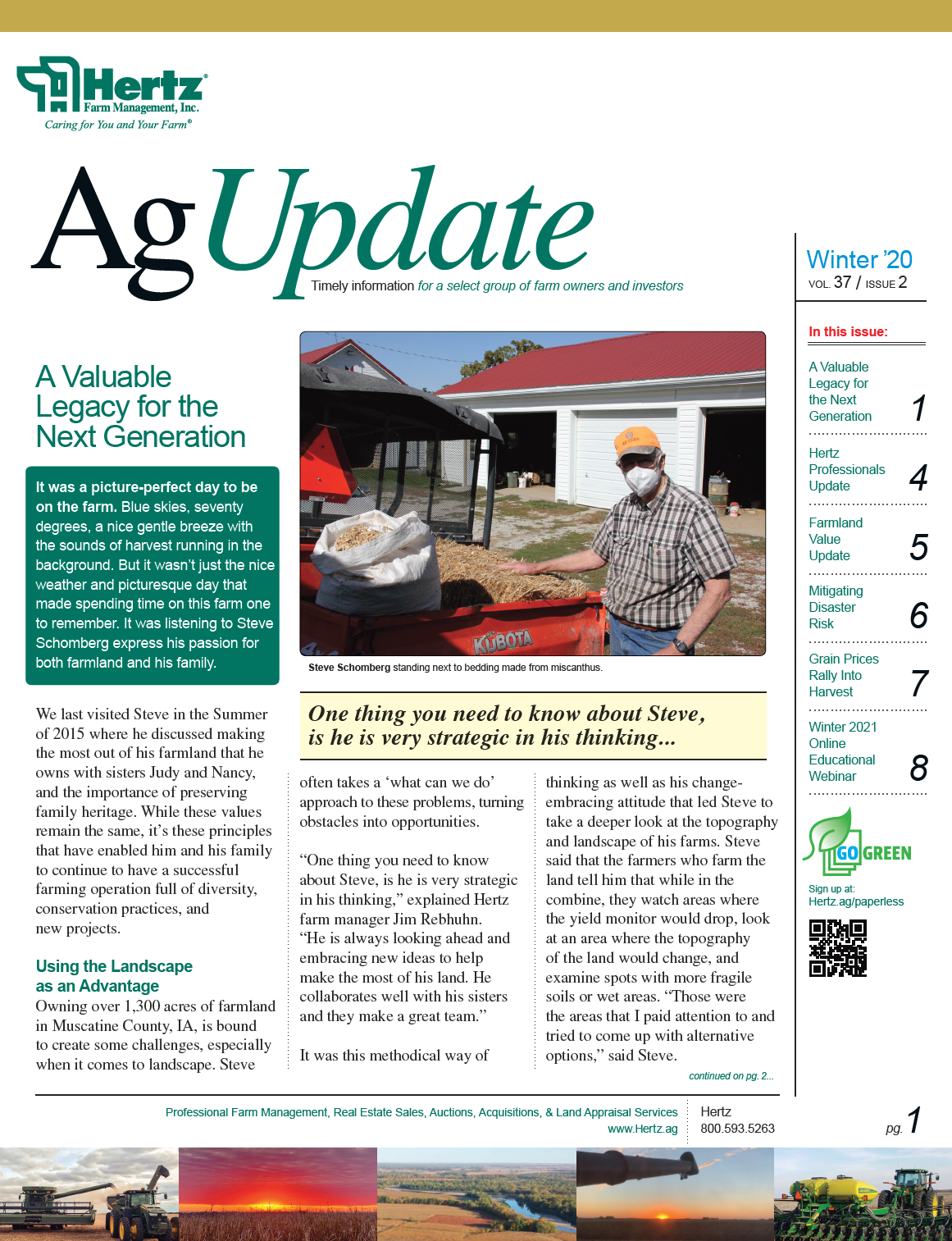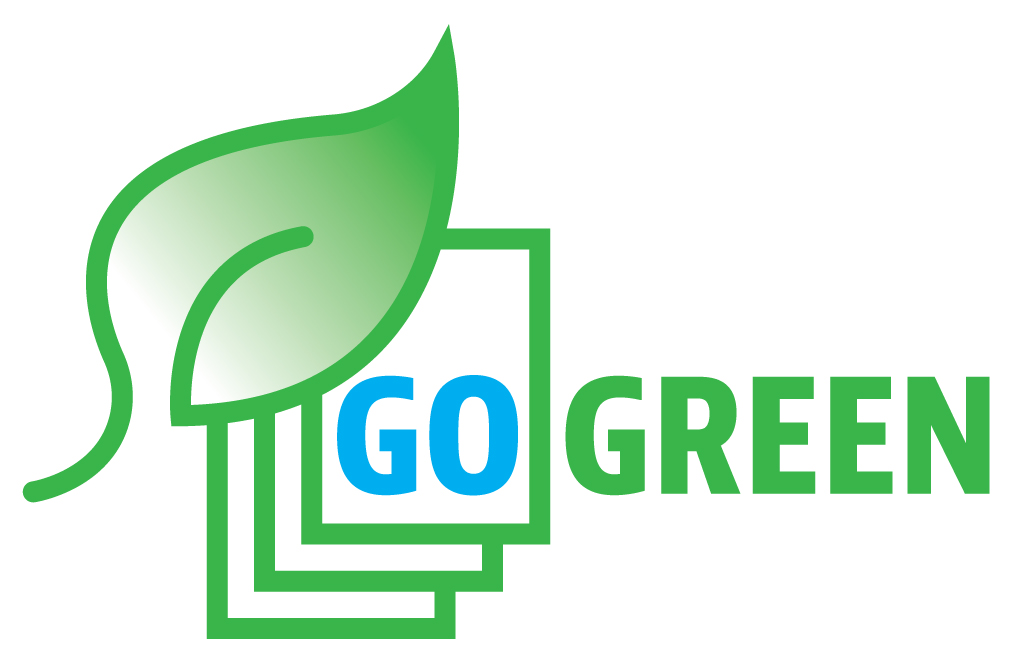 Receive your Ag Update electronically!
Hertz Farm Management supports and encourages professional accreditations for all of its farm managers, rural appraisers and real estate professionals.
Accredited Farm Manager (AFM)
Our Farmland Professionals are continually striving to educate themselves to ensure they are providing the best quality service to our clients as possible. One of the ways they stay at the forefront is through Professional Accreditations. The American Society of Farm Managers and Rural Appraisers (ASFMRA) offers professional accreditations in both farm management and rural appraising.
To qualify for Accredited Farm Manager designation, a farmland professional needs to meet the following qualifications:
4 years of experience in farmland management
4-year college degree
ASFMRA membership
Completion of ASFMRA course work
Submission of a successful farm management plan
Pass the ASFMRA accreditation exam
For more information on the Accredited Farm Manager program, click here.
Certified Crop Adviser (CCA)
The Certified Crop Adviser (CCA) program of the American Society of Agronomy is the benchmark of professionalism. The CCA certification was established in 1992 to provide a benchmark for practicing agronomy professionals in the United States and Canada.
Steps to Certification
Pass two comprehensive exams (International and Local Board)
Meet the experience requirements

Have at least two years of experience with at least a Bachelor of Science Degree in an agronomy related field
Have at least 3 years of experience with an Associates Degree in an agronomy related field
Have at least four years of experience with no degree

Apply for CCA Credential

Document education and crop advising experience (Including transcripts and supporting references)
Sign and agree to uphold the CCA Code of Ethics (Included in application)
For more information on the Certified Crop Adviser (CCA) program, click here.
Accredited Agricultural Consultant (AAC)
Accredited Agricultural Consultants (AAC) members of the Society provide the highest quality management consulting service to rural America. The agricultural consultant advises clients on business decisions about the current operation of and future opportunities for the client's enterprise. The Consultant values honesty and fair dealing in a manner which promotes the interest of his/her clients, employees and shareholders. The AAC designation ensures that service is delivered with the highest standards, integrity and quality.
Designation Requirements
Complete Required coursework
Four years of agricultural consulting experience or equivalent (as approved by the ASFMRA).
A four-year college degree or equivalent (as approved by the ASFMRA). Any equivalent education should be submitted for review very early in the accreditation process so the ASFMRA can determine if the education qualifies.
ASFMRA membership prior to submitting an application for accreditation.
Submission of one consulting report as prescribed by the ASFMRA.
Comprehensive AAC Accreditation Exam.
To learn more about the Accredited Agricultural Consultant program, click here.
Careers
We are a team of Farmland Professionals dedicated to providing our clients with the highest level of integrity, service and commitment to excellence.
Online Educational Webinar
To keep everyone safe and healthy during the time of COVID-19, we have decided to have our winter seminar online.
We will be hosting a webinar and will focus on:
Grain markets
Leases
Farmland Values
Conservation
Q & A Panel
Three easy steps to register:
Click on the link below
Complete Online Registration
Click the link in your confirmation email on the day of the webinar
If you are planning for the next generation, you're encouraged to invite your children to listen/watch with you.
These seminars are designed for landowners who don't farm their land.
10:00 a.m. - 1:00 p.m. Central Time
Understanding Iowa Soil Ratings
The USDA NRCS Updated the Soil Survey with Iowa State's CSR2 Data in January, 2014
Iowa's soils and their inherent productivity play key roles in Iowa's wealth and ability to feed the world. The USDA Natural Resources and Conservation Service (NRCS) is the agency responsible for mapping, classifying and quantifying the differences between soil types. They began publishing a soil survey in the 1930s. Since those first surveys were published, the NRCS has been working to improve soil mapping techniques and classification methods and now publish the official soil survey on the internet as "the Web Soil Survey". The advances in the soil classification system and in soil survey publishing have made it necessary to update the way Iowa calculates and maintains its soil productivity rating system, the Corn Suitability Rating or CSR. Iowa State released CSR2 to the USDA NRCS this past fall and the NRCS completed a soil database update in December 2013 and published it in January 2014.
Because CSR2 is being introduced for the first time, there may be some confusion and misinterpretation of land values when individuals don't recognize the difference between CSR and CSR2 values. Additionally, when the NRCS reclassifies a soil type and assigns a new Soil Map Unit number, there may not be a CSR value to reference. When looking at soil maps and CSR values, it will be critically important to understand if you are looking at CSR or CSR2 values. In order to ensure that our clients receive accurate and up-to-date information, we will be including the CSR and CSR2 values and, if needed, soil maps in our listing and auction brochures as well as incorporating CSR2 into our farmland valuations for the foreseeable future as the Iowa land market adjusts to the introduction of CSR2.
What are CSR and CSR2?
The Iowa Corn Suitability Rating (CSR) system was developed by Iowa State University in the early 1970s as a way to measure potential soil productivity based on soil profile, slope characteristics and weather conditions. It is an index ranging from 0 to 100 with CSR values of 100 being the most productive. County assessors use the CSR and the Iowa State University soils database to determine land values for property taxation. Appraisers, real estate agents, and farmland investors use it to evaluate land values and analyze comparable sales. Farm managers and farmers use it for conservation planning, lease values and crop production.
CSR2 is an index similar to the CSR concept but uses a clearly defined and easily calculated formula to determine a soil's productivity. It is more consistent with the newer, more-data driven methods the NRCS uses compared to the original CSR which was more experience and judgment based. CSR2 is also more suitable to site-specific soil measurement and precision farming uses as it takes into consideration the soil inclusions or subcomponents. Iowa State plans to publish both CSR and CSR2 values for a given soil type in their "Iowa Soil Properties and Interpretations Database" (ISPAID).
CSR2 will evaluate soil properties, specific field conditions for a soil map unit, soil depth, local climate and environment and expert judgment. The official CSR2 formula along with CSR2 values was released in July of 2013 as part of recent ISPAID version. (ver. 8.0)
The Web Soil Survey, NRCS' official published soil survey, updated its soils data in December 2013 and released the updates in January 2014 with CSR2 values described as "Corn Suitability Ratings" making no distinction between CSR and CSR2. It is NRCS' intention to update the Web Soil Survey annually to reflect their updates and reclassifications.
What does this mean for Iowa Farmland Owners?
On a farm by farm basis, it is probable that the weighted average CSR2 value will be different than the CSR value. If the CSR2 value is lower and it is reported as a CSR value, the perceived value of your farm may be impacted even though the soils are the same. This may also have an impact on lease negotiations. The same is true if the CSR2 is higher than the CSR. If you have a soil map or CSR records pre-dating January 2013 and compare it to the Web Soil Survey data, the Corn Suitability Rating for your farm may have changed. The likely explanation is the change from CSR to CSR2.
It's important that farmland owners are aware of both their farm's CSR and CSR2 ratings so that they can recognize the difference. This will be particularly important when referencing the UDSA Web Soil Survey which does not distinguish between CSR and CSR2 at this time. It will be as important for farmland listing agents and auctioneers to disclose the CSR and CSR2 values to help their clients and the farmland market effectively evaluate productivity and analyze sales. Over a period of time the market will recognize CSR2 values as the standard.
One of the key differences between CSR and CSR2 will be the climate factor. CSR2 will not have a climate factor in it calculations. In the original CSR values, soil scientists made an adjustment based on the geographic region of a soil map unit (SMU). For example, SMUs in Northwest Iowa were adjusted downward more than SMUs in Southeast Iowa. Without a climate adjustment, CSR2 values will have an upward bias in counties located in Northwest Iowa.
According to an Iowa Department of Revenue presentation at Iowa State Association of Counties (ISAC), implementation of the official NRCS Soil Survey with CSR2 is required for all Iowa county assessors in 2017. We do not know what each county tax assessor will do with CSR2 between now and then. They base their assessments on the ISPAID data from Iowa State. Each county may work with the soil ratings differently until 2017 so please check with your local assessor regarding any updates or changes to their property tax assessments using CSR.
Agriculture Industry Links
2020 Year In Review
Land Values Surveys
Today, the business case for healthy soils is stronger than ever. Thanks to a better understanding of soil management, you know that healthier soil helps retain nutrients and moisture – and can generate a corresponding rise in productivity, profitability and resiliency. It also can increase the value of your land for the next generation.
4R Plus involves using precise 4R nutrient management and conservation practices to provide nutrients when the crop needs them and to enhance soil health and improve water quality. The goal is to achieve a more productive crop now and in the future.
Press Releases
General
Universities
Agronomic
GMO Crops Online Resources
Weather
Wind Energy
Commodity Markets
Current Headlines
Agriculture Industry Information
Keeping You Up-To-Date
Our goal has always been to help landowners better understand their investment and to feel comfortable with their land ownership. The links will help you stay current with recent Ag news and commodity prices.
We have also included some helpful Agriculture links as well as some information on Soil Ratings systems.
Also, we'd love to hear from you. If there are additional topics you would like information on, or websites you feel would be helpful to include, please let us know! Send us an email through our Contact Us Form.
Appraisal Accreditations
Hertz Farm Management supports and encourages professional accreditations for all of its farm managers, rural appraisers and real estate professionals.
Accredited Rural Appraiser (ARA)
Our Farmland Professionals are continually striving to educate themselves to ensure they are providing the best quality service to our clients as possible. One of the ways they stay at the forefront is through Professional Accreditations. The American Society of Farm Managers and Rural Appraisers (ASFMRA) offers professional accreditations in both farm management and rural appraising.
To qualify for Accredited Rural Appraiser designation, a farmland professional needs to meet the following qualifications:
5 years of appraisal experience
4-year college degree
ASFMRA membership
Completion of ASFMRA course work
Submission of 6 appraisal reports
Pass the ASFMRA accreditation exam
Certified General Real Property Appraiser (CGRPA)
Member of the Appraisal Institute (MAI)
Appraisals from Experts in Agricultural Real Estate
Hertz Appraisal Services delivers top-notch agricultural valuations! Our certified appraisers listen to understand, and then tailor our services to your situation. We specialize in well-supported appraisals and have designed our reports to be easily understood. And if you ever have a question about the appraisal, we are happy to answer it.
We provide valuation services for:
Estate purposes
Charitable donations
Family gifting
Equitable division of farmland
Asset management
Selling and purchasing
Litigation
Large real estate holdings
We currently offer appraisal services in Iowa, Illinois, and western Indiana.
Non-appraisal valuation services are available in western Indiana, Illinois, Iowa, southern Minnesota, and eastern Nebraska.
If you need a valuation of agricultural property, we would love the chance to visit with you. We have experienced appraisers that are ready to help with your specific property, and your specific situation.
To begin the conversation, simply fill out the form below or call us at 800-593-5263
Appraisal Request Form

Hertz Outlook Newsletter
The Hertz Outlook is a quarterly publication focused on the Midwest Farmland real estate market. Each quarter we provide updates on the changing landscape of Midwest farmland values and all of the factors affecting them.
Current Issue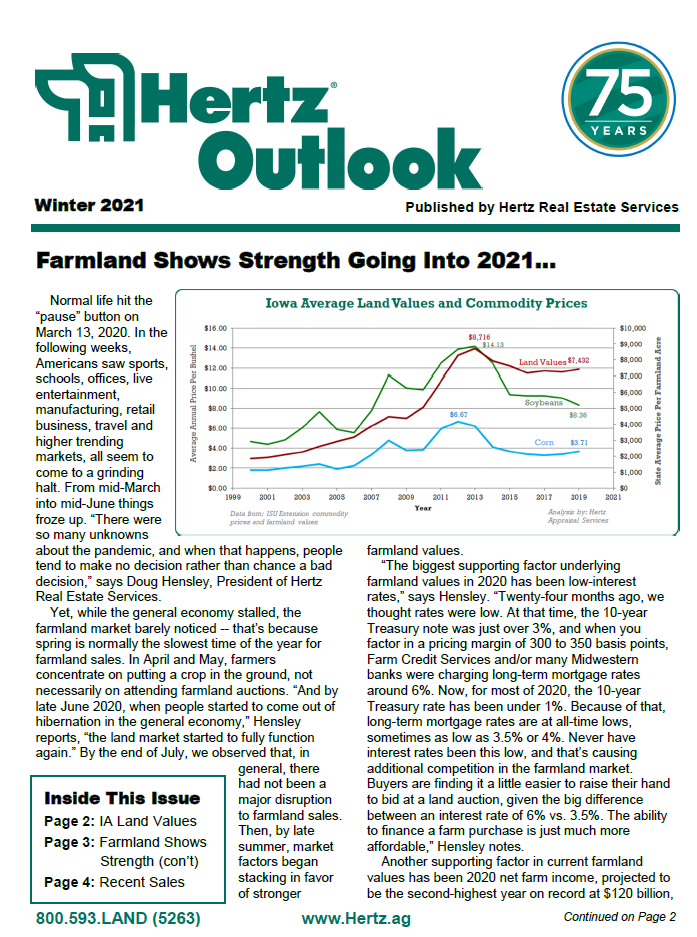 Note: The interactive features of our website work best when using Chrome, Safari, Edge, or Firefox browsers.

Current Listings
Real Estate Accreditations
Hertz Farm Management supports and encourages professional accreditations for all of its real estate professionals, farm managers and rural appraisers.
Accredited Land Consultant (ALC)
Accredited Land Consultants (ALC) are more than land professionals. They're the most accomplished, the most experienced, and the highest performing land experts across the country— whether they specialize in agricultural land, timberland, ranch and recreational properties, or vacant land for development.
Achieving the ALC designation isn't easy. It requires successful completion of a rigorous education program, a proven track record of performance, and a commitment to professionalism. When a land specialist becomes an Accredited Land Consultant, that individual joins a select network of real estate professionals who work together to build and share knowledge, develop trusted relationships, and expand business opportunities. The REALTORS® Land Institute confers the esteemed Accredited Land Consultant (ALC) designation to only those individuals who have achieved the highest level of education, experience, and professionalism.
Farmland Real Estate
One way or another, your connection to the land has brought you here. Whatever your relationship to the land might be, you understand not only its financial value but also its emotional worth. Knowing and appreciating the true value of land has been a critical part of our way of doing business since 1946.
The Hertz Farm Management and Hertz Real Estate Services team specializes in farmland sales, auctions, acquisitions and exchanges.
We use our exclusive listings or professional auctions to achieve maximum returns on property sales and offer professional buyer representation if you wish to invest in farmland. We also can help you and your attorney use a tax-free 1031 exchange to realize the most from your investment.
What to expect at a Hertz Farmland Auction
If you have additional questions or concerns regarding our farmland auctions in the time of COVID-19, please call 800-593-5263 or email at RealEstate@Hertz.ag.
Farmland Real Estate Information Request
Professional Farm Management
Landowners who do not personally farm their land can benefit greatly from the tailored, professional management service that Hertz delivers. As farm asset managers, we will represent you using our personal and professional hands-on business approach to attentively process all of the important details inherent to meeting your goals and objectives. We understand your complex concerns, your personal goals, and your investment aims, and we address each with a careful hand and an overall emphasis on soil stewardship, production, marketing, accounting, and communications. You will appreciate our accurate, detailed accounting, consistent on-the-farm supervision, and assurance that your best interests are represented.
It's All in the Details
Details matter and our attention to the intricacies related to the operation of a farm—including leasing the land, planning the crop rotation, purchasing supplies, marketing the crops and livestock, and supervising land improvements and building repairs—is second to none. We'll visit your farm frequently. You'll have accurate, up-to-date records, consistent on-the-farm supervision, and assurance that your best interests are being represented. We work with some of the best operators in agriculture to ensure your success and satisfaction.
How can we help you with your farm?

In the fall of 1945, Carl F. Hertz found himself at a crossroads. "I was traveling way too often and wanted to be home to see my kids grow up."
It was his family-first approach and passion for farmland that led him to open Hertz Farm Management on March 1, 1946. When Carl opened the doors, he insisted on one thing: In everything we do, operate at the highest level of integrity. Decades later, we remain committed to this value.
For 70+ years, our Farmland Professionals have been caring for farmland owners and their agricultural investments. With a full range of services including professional farm management, real estate, and appraisal, we help our clients reach their ownership and family goals.
Our Promise
We promise to provide the highest level of service, advice, communication, and commitment we can deliver with integrity and care.
Following in the legacy of Carl Hertz, we do everything we can to help clients care for their farmland by delivering on our promise. To guide us in our efforts, we follow three core values.
Integrity
To us, integrity means being honest, being fair, and treating people with respect. With every client and interaction, we strive to follow through on our promise and provide the highest level of service to everyone we meet.
Professionalism
Part of being a professional is making ourselves experts in the industry. Carl Hertz became one of the first Accredited Farm Managers in the United States, which is why all our farmland professionals seek to improve their understanding of relevant issues and new farm technology.
Client Focus
Our clients' needs, objectives, and goals, guide the decisions that we make on their behalf.
"During the many years the land has been with Hertz, the three farm managers that have cared for our farms have brought a wonderful gift of personal-social skills, background of knowledge, excellent tenant selection, detailed financial statements, absolute integrity and excellent communication skills."
-Arthur Family
Video Library
To Learn more about What to Expect During a Hertz Farmland Auction, CLICK HERE: COVID 19 Guidelines
Note: The interactive features of our website work best when using Chrome, Safari, Edge, or Firefox browsers.
Current Auctions
Auction Results
Can we help you find something?
How Can We Help?
If you would like to talk to us about your individual farmland situation, we'd he happy to meet with you and answer any questions you may have. There is no cost or obligation.
Our goal is to help you make the most of your farm ownership.
Please fill out the Contact Us form and one of our Farmland Professionals will get back to you soon. Or, if you prefer, you can contact one of our offices directly. We look forward to hearing from you.