Investment in Wealth for Generations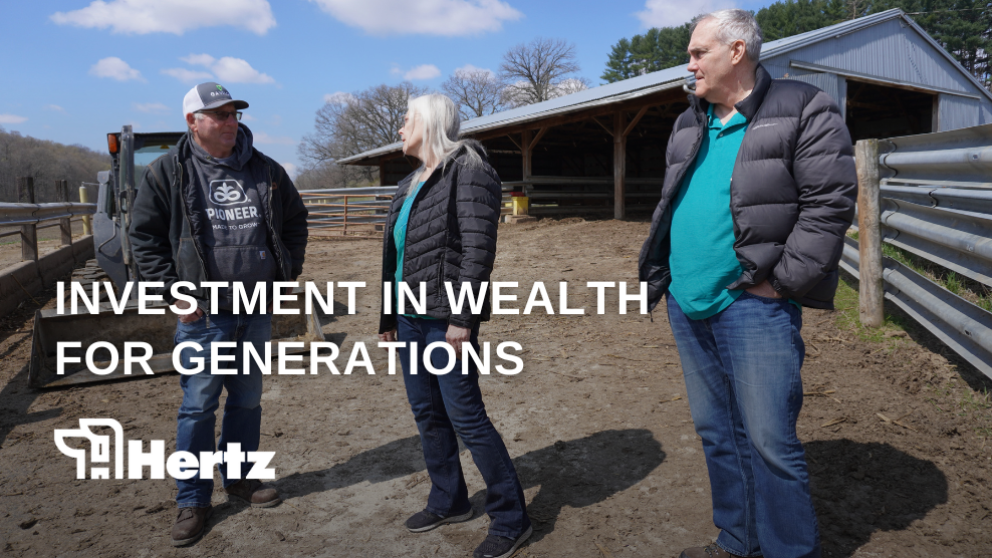 Edward Otrusina and Julie Smith speaking with their farm operator Ron Raisbeck.
The phrase 'be a good steward of the land' is commonly used in agriculture, but what exactly does it mean? Landowners Edward Otrusina and Julie Smith believe they've found the key to stewardship with one simple yet powerful approach: "Leave it better than you found it." Today, this guiding principle has helped the siblings establish a sustainable family legacy that will endure for years to come.
The Start of a Family Legacy
The Otrusina farm legacy can be traced back to the 1970's. When Anton Otrusina, Edward's and Julie's father, had some money to invest, he believed that farmland was a wise choice because it was a limited resource. Edward recalls, "He always told me that farmland was a good investment because they're not making any more of it."
When Edward was 14 and Julie was 12, they joined their father on a trip across the Midwest, including Minnesota, Missouri, and Iowa, looking for farmland. After considering multiple options, Anton decided to invest in farmland in southwest Wisconsin. "I was curious as to why he chose Wisconsin over any of the other properties that we explored," shared Edward. "A couple of years later, I realized why."
Edward and Julie got an opportunity to explore Czechoslovakia, where Anton was originally from. "After being there, it started to make sense why he chose Wisconsin. Yes, the topography, geography, and landscape checks all the boxes, but it was more than that. It reminded him of where he grew up, it reminded him of home."
The first farm the family purchased was in Hickory Grove near Boscobel, Wisconsin, and over time the family has been able to expand their operation. Today, the Otrusina family owns a number of farms in Illinois, Iowa and Wisconsin.
The Value of Stewardship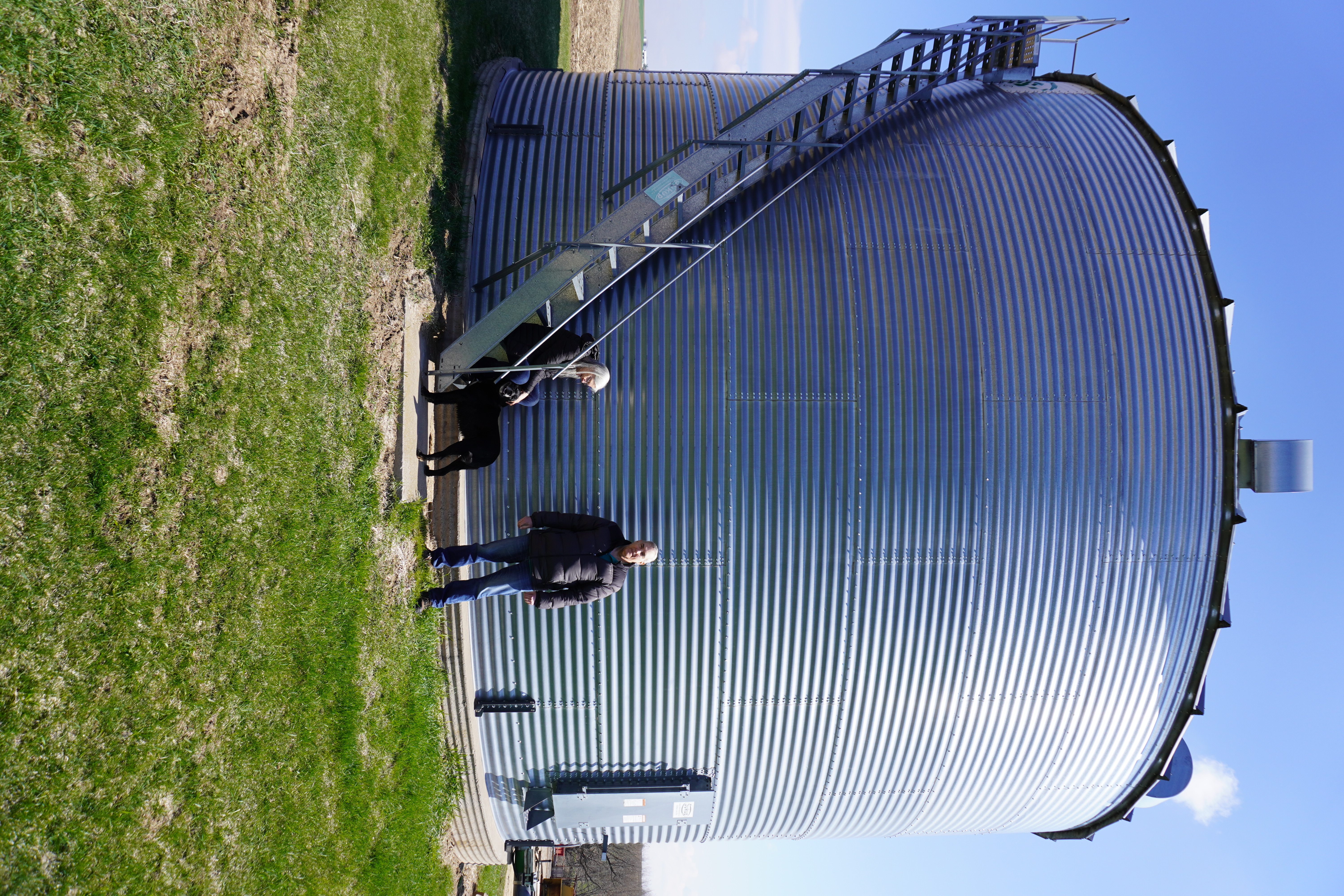 The value of good stewardship was ingrained into the siblings from a young age. "We were brought up that no matter what you had, you took care of it. You leave it better than you found it," explained Edward. "When you're brought up that way, you live it."
The siblings have made it a point over the years to take care of the properties and put money back into their farmland asset. From tile drainage, to waterways, grain bins, and even planting over 14,000 trees to help prevent soil erosion, the siblings do everything they can to maintain or increase the value and productivity of their farmland.
"At first our policy for the farm income was for 1/3 to go to debt repayment, 1/3 go to improvements, and 1/3 go to disbursements," said Edward. "As we expand, our philosophy is to find property with high potential, improve it, and then once we've maximized it, continue to grow our asset." Edward later elaborated and explained that he's not the only one who understands the value of maximizing farmland through improvements. "We've had multiple instances where we have been approached and asked to sell a piece of land for well above market price because we spend so much time improving it."
While profit and income potential have certainly been a driving force for Edward and Julie to take care of their farmland, they also have another big motivator to keeping the farms in top shape. "Edward and I both want to leave the farms to our kids someday," said Julie. "We know these farms have a lot of value and it's important that we help them understand that value and allow them to split everything equally between them. Hertz has been really helpful in that process."
Building Partnerships through Trust
When asked about his partnership with Hertz Farm Management, Edward expressed his initial hesitation. "I decided to do a trial period where I asked Hertz to manage one of the properties." Edward explained that he did not take his foot off one stone until he had firm footing on the other. "As I grew more comfortable with Hertz and found them reliable and trustworthy, I started to give them more to manage."
Today, Edward and Julie are content to let Hertz manage all their properties, and they have a different outlook on farm management services. "I look at our partnership with Hertz similar to using a tool. You use a wrench to help tighten a bolt, but you don't give up control to the wrench. You maintain control, but you use the tool to make your life easier," expressed Edward.
"I'm not sure how I feel about the comparison to a wrench," laughed Jeff Troendle, AFM, Edward's and Julie's farm manager. "But yes, that is the beauty of farm management. Our goal is never to take control away from the families that we work with. We want to help maximize and improve the farmland asset while at the same time offering the owners piece of mind. It's a partnership."
Jeff has helped manage the Otrusina properties for over 30 years and aided the family through improvement projects, succession planning through the creation of an equitable ownership entity, and being available for advice. "We trust Hertz and Jeff to do their due diligence and give us the best advice," explained Julie. "We value his opinion."
The Otrusina family also works with Hertz farm manager, Rich Grever, AFM to help manage the Illinois properties. "When you have multiple managers involved in a large operation that spans multiple states it's important that we work together to manage the properties," explained Jeff. "Rich and I keep an open communication channel to coordinate cash flow, tax planning, and improvements across the farms.
"When both parties have the same goal to improve and make the most out of the asset, working together becomes a little easier. Our values have always aligned well with Edward and Julie, and it's been fun to be a part of their farmland ownership journey," explained Jeff.
In addition to Hertz, the Otrusina family also places high value in their farm operators. "We enjoy working with our operators to make improvements and keep the properties running smoothly. Without their hard work and drive to help us make the farms better, things just wouldn't happen. We really value and appreciate the work that they do," explained Edward.
Equal Shares Among the Heirs
Dividing a farm among heirs can be a complicated process. It's tempting to divide the land so each heir has the same amount of acres, but that doesn't mean each section of land will have the same value and profitability. Factors like inflation, input costs, timber, and access to waterways and roads could affect each section's profitability. So, how can you divide the land to ensure that each heir gets an equal share of the profits?
For the Otrusina family, they successfully used a family Limited Liability Limited Partnership (LLLP), a type of business structure that provides benefits such as limited personal liability and flexible management. With the help of their farm manager, Jeff Troendle, AFM, they established a family partnership to ensure that profits were distributed equitably among their heirs. As Jeff explained, the partnership agreement specified how profits would be distributed, ensuring that each heir received an equitable share, regardless of their involvement in the farm's management.
A Tribute to Family
Whether they're monitoring progress, working, or just enjoying the view, Edward and Julie like to visit their properties several times each year and spend time being connected to the operators and their farmland asset. "Legacy is one of our big goals as landowners. Understanding that we have this incredible asset and leaving it in good shape for the next generation, there's something pretty special about that," said Julie.
With a goal to pass the farms on to their children and their families, Edward and Julie make it a point to keep some perspective and remind themselves where it all started for them. "Our father started the family's farmland investment, and we'll always remember our road trip across the Midwest. The farm investments have always been a family effort. We requested Lilacs be placed on the properties in recognition of our mother Mary's unconditional love and her contributions to both the family and the investments."
Today, the lilac bushes serve as a reminder to the family effort to build and maintain a legacy that will live on for future generations.
---