Building Wealth Across Generations
For over 75 years, Hertz Farm Management has been a premier farmland asset management company in the Midwest serving as a trusted partner to generations of farmland owners. We specialize in professional farm management, land acquisitions, farm appraisals as well as farm real estate sales, auctions and acquisitions.
With 15 offices throughout the Midwest, Hertz manages over 2,900 farms consisting of more than 644,000 acres with an estimated value of $5 billion. Our real estate team brokered over $1.4 billion in farmland transactions over the last 3 years.

75 years of Professional Farm Management Experience
Strong presence across key region of the Midwest allow opportunity to diversify by geography
Extensive network of clients and operators provides proprietary access to off-market opportunities
Professional managers identify top growers to enhance performance and achieve competitive rents
Focus on environmental best practices and sustainable management
Multiple operating/leasing strategies provide opportunity to maximize risk-adjusted income potential

Farmland Investment Opportunity
Farmland is a proven investment
Strong fundamentals for investment continue for real assets with strong demand and limited availability
Growing global demand of agriculture food products
While farmland values follow commodity price trends, they have shown resilience in recent years (see illustration below)
Farmland prices did not weaken to the extent corn and soybeans prices did
Relatively low investor penetration; high barriers to entry
Attractive risk-adjusted return profile
Technology advancements provide opportunity to improve yields and operator economics
Annual income return combined with long term capital growth
Provide exposure to commodity markets without the short-term volatility
Cash lease agreements transfers short term weather and crop production risk from the land owner to the operator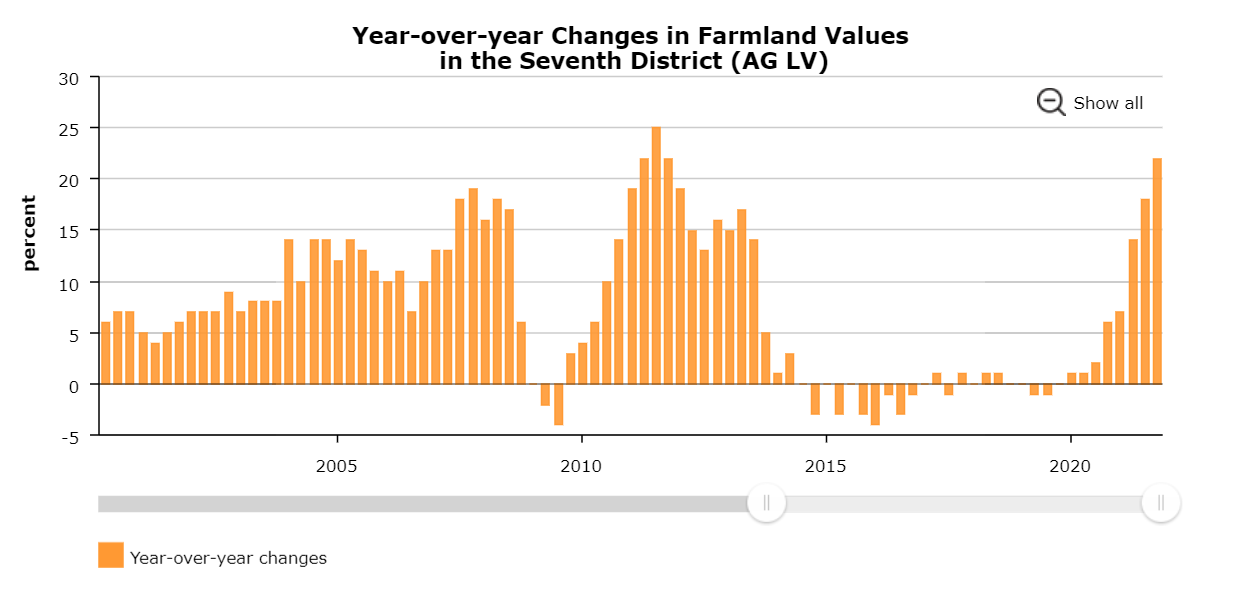 Farmland Investment Fund
Grainfield Capital Management offers high net worth investors, family offices, and advisors serving affluent individuals the opportunity to include farmland in investment portfolios. Click below to learn more.

How can we help?