Hertz Farm Management Acquiring Wingert Realty & Land Services, Inc.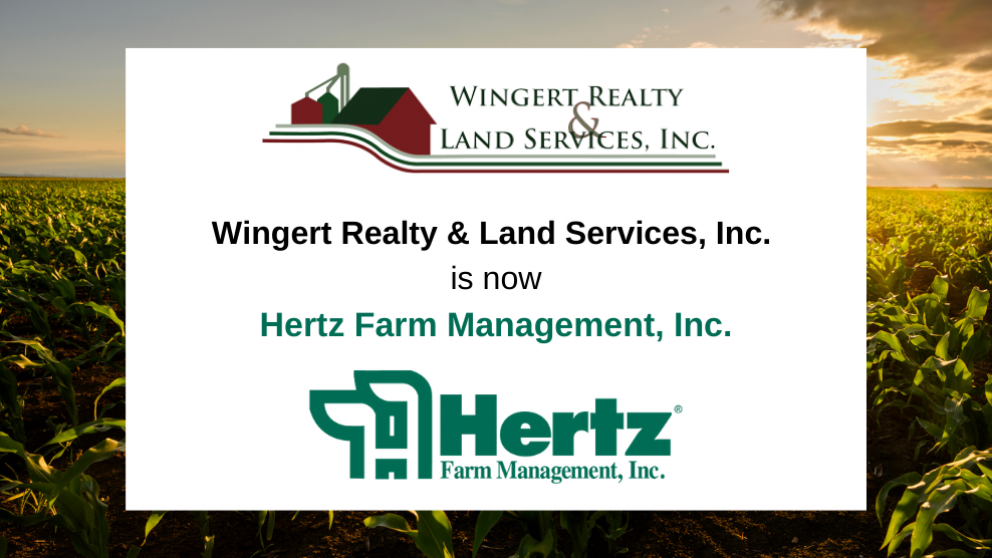 May 3, 2021 (Nevada, Iowa) - Hertz Farm Management, Inc. is proud to announce that Charles "Chuck" Wingert is merging his business, Wingert Realty & Land Services, Inc., located in Mankato, Minnesota, with Hertz effective May 1, 2021.
The Mankato office joins the Hertz Farm Management team, which covers more than a dozen midwestern locations. The farmland professionals at the new Mankato office will expand their services to include farmland sales and auctions, valuations, appraisals, and farm management while continuing to serve landowners across Minnesota and the northern region of the Corn Belt.
Founded in 1976, Wingert Realty & Land Services, Inc. has over four decades of providing high-quality land services to farmland owners across southern Minnesota and northern Iowa. With Hertz Farm Management, Chuck Wingert will continue to serve landowners throughout this same region along with his office staff, which includes land professionals Darrell Hylen, Rick Hauge, Geoff Mead, Adam Knewtson, Nick Meixell, Sara Strande, and Andrea Thomas. The Wingert staff will work with current Hertz professionals Justin Bahr, Jen Haler, Leon Carlson, Michele Schroeder, and Terry Dean in the Mankato-based office.
"Wingert's strong reputation and philosophy of providing knowledgeable, personalized service to farmland owners, dovetails perfectly with the Hertz philosophy of caring for and serving farmland owners," said Doug Hensley, President of Hertz Real Estate Services. "We are very excited to welcome Chuck and his team into our Hertz family, and we look forward to the new opportunities it provides for everyone involved, including staff members, as well as current and future clients."
Founded in 1946, Hertz Farm Management is the premier farmland asset management company in the Midwest. It specializes in professional farm management, farm real estate sales, farmland auctions (live and online), land acquisitions, and farm appraisals. With 15 offices throughout the Midwest, Hertz manages over 2,800 farms with more than 625,000 acres. For more information, visit www.hertz.ag.

---