Central Iowa Ag Community Cooperation Helps Feed the World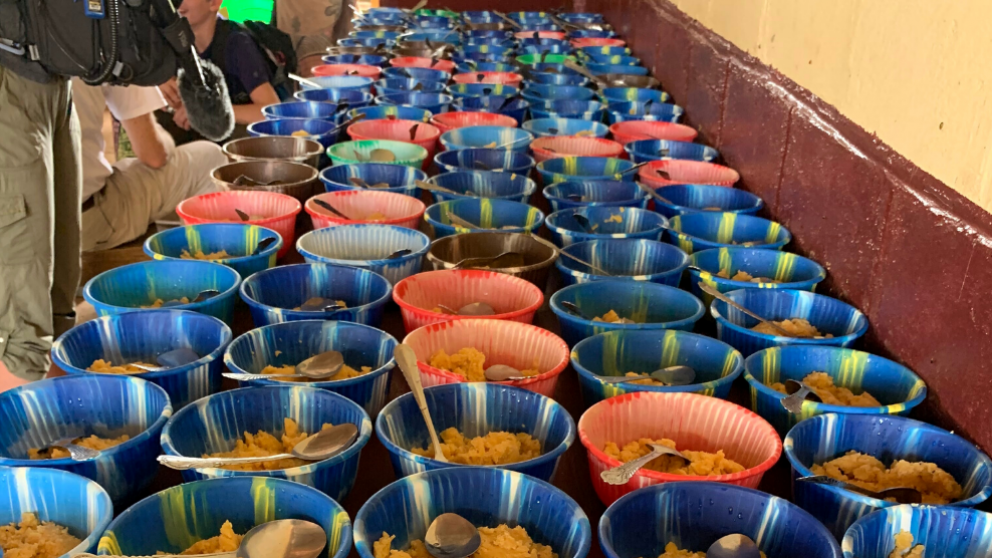 May 28, 2021 - Children growing up in the Central African Republic (CAR) often don't know when their next meal will be or where it will come from. When it does come, it is usually low on essential nutrients. In the most malnourished country on earth, where 37% of children have stunted growth and 12% of children won't live until the age of five, help is desperately needed.
Fortunately, even in a poverty-stricken land like CAR, there is a place of refuge – a school – where children come to a learn and grow. This school is operated by Jonathan's House - Central African Republic, a non-profit organization run by volunteers half a world away in the State of Iowa, led by Carter Strand, Marshalltown, IA. Back in 2018, enrollment stood at 275 students. Absentee rates were high, literacy rates were low, and basic hunger, along with deeper issues of malnutrition, made it difficult for the children to concentrate on their studies. At that time, each school day ran from 8:00 AM to 12 PM (Noon) so the children could go home for lunch. Unfortunately, most of the children were not getting lunch at home. Then, in late 2018, Carter and his team crafted a plan to provide a daily multivitamin and nutritious lunch, while also extending the school day to 3:00 PM. As soon as the new plan was announced in the African community, enrollment increased by 150 students, most of whom needed daily nutrition and a good education. For a small non-profit based in central Iowa, and funded entirely by donations, this was a major financial commitment that carried the risk of reducing or eliminating other important projects.
Fortunately, in 2021, a powerful spirit of cooperation among the ag community has stepped in to help. The seed of cooperation was planted in late 2019, when Carter and volunteer Doug Hensley traveled with a team to serve at Jonathan's House. While there, the team witnessed the impact of the school lunch program. In the months since that trip, even as the COVID-19 pandemic swept across the world, many of these same Iowa-based volunteers worked to raise funds to ensure the needs of the Jonathan's House school lunch program were still met. And in early 2021, a handful of Iowa-based organizations and individuals, including Hertz Farm Management, Nevada, IA; Peoples Company, Clive, IA; Whitaker Marketing Group, Ames, IA; Cornerstone Church, Ames, IA; and Doug & Stacey Hensley, Nevada, IA, teamed up to provide the funding needed to ensure an entire school year of lunches for 425 students – that's more than 76,500 meals! More importantly, this cooperative effort of the central-Iowa agribusiness community will change the lives of those 425 children. With proper nutrition, these children can develop properly and focus on getting the education that can provide freedom from the cycle of poverty in which they have grown up.
Midwestern U.S. agriculture has long been about creating an abundance that can help feed the world. By working together in a spirit of cooperation, a small corner of the Iowa ag community is making a WORLD of difference. You can make a difference, too – for more information about Jonathan's House - Central African Republic, visit www.jonathanshouse.org.
---