Farmland Value Update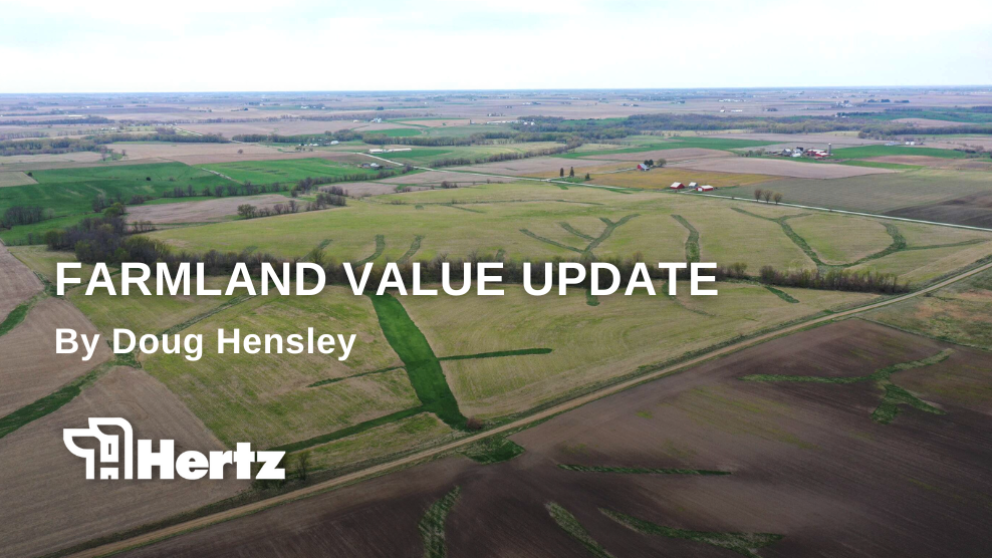 Every time I write a land value update, it gives me reason to reflect on all that's occurred across the marketplace. I think most of us will long remember 2020, 2021, and 2022 for the incredible bull market in farmland, led by strong demand for grain, subsequently high grain prices, low interest rates, and very strong on-farm profitability. However, in early 2023, we began to notice that some of the aggressiveness that had defined the land market just a few months earlier, was beginning to slow… just a touch. This does not mean that the market turned weak. To the contrary, we continued to see sale prices that would have been almost unthinkable at the start of 2020 – very strong, but not quite record-setting like we witnessed in the first half of 2022. To me, this was an indication that the market was functioning well and adjusting to new realities – notably, lower forward grain prices for the 2023 crop, and a higher interest rate environment. That said, all the reports and look-back surveys referenced below, continue to reflect steady to higher land prices.
Iowa Edges Higher in 2023
Iowa farmland values still edged higher over the last 12 months, increasing by a statewide average of 3.6%. However, as mentioned above, values have clearly started to level off according to the latest data. The Land Trends and Values Survey from the Iowa Chapter of REALTORS® Land Institute, released in March 2023, shows an increase of 0.8% for the 6-month period of September 2022 to March 2023. This follows the 2.8% increase from March 2022 to September 2022.
Illinois Still Very Strong Year-Over-Year
According to the annual survey conducted by the Illinois Society of Professional Farm Managers and Rural Appraisers, Class A (Excellent) Illinois farmland saw a 16% year-over-year increase in values from 2022 to 2023. This compares to a 26% year-over-year increase the year prior (e.g., from 2021 to 2022). Class B (Good) and Class C (Fair) quality farmland also showed increases in year-overyear values in early 2023. Several market professionals indicate that price increases have slowed in early 2023.
Nebraska Maintains Strength
Nebraska farmland values increased by 14% over the prior year, according to the March 2023 release of Cornhusker Economics from the University of Nebraska – Lincoln. This marks the second-largest increase in the market value of agricultural land in Nebraska since 2014. However, it's important to keep in mind that Nebraska values can vary significantly from region to region. For example, quality center-pivot irrigated land in eastern Nebraska can sell for well above $12,000 per acre, while nonirrigated cropland in the North/ Northwest Sand Hills region can still sell for less than $1,000 per acre.
Minnesota Generally Stable in 2023
The Minnesota farmland market was strong throughout 2022. High old-crop commodity prices helped to create a very profitable year coming out of 2022 and into 2023. Bankers and farmland professionals in the northern Corn Belt report currently healthy farm finances, although few are excited with early-season cash flows for 2023 production. Nonetheless, according to a survey conducted by the Federal Reserve Bank of Minneapolis, lenders are generally optimistic about the outlook for 2023.
Looking Ahead
It has been an incredible 3-year bull market in agriculture and farmland. Net-farm incomes have reached record levels, and we continue to see a healthy farmland market. However, with higher interest rates and lower current commodity prices for 2023 production, the farmland market appears to be leveling. Our expectation is that we will continue to see good competition for the best quality land, with market participants who use a very sharp pencil to determine how far they will go in pursuit of new farmland acquisitions.
---