Farmland Value Update - June 2022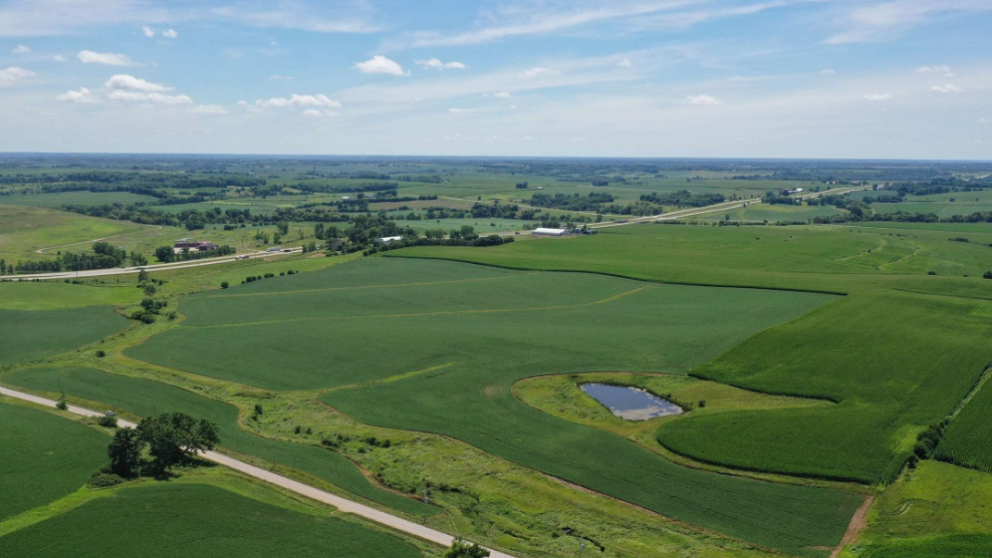 Doug Hensley, President of Hertz Real Estate Services, Nevada, IA
I've enjoyed the opportunity to work in the Midwestern farmland brokerage and auction business since the late 1990's. As I was traveling to our Landowner Seminars in early 2022, I spent some time reflecting on the past 25 years, especially as it relates to the phenomenal strength in the land market of the more recent 12-18 months. In some respects, 2021 was a "Goldilocks" scenario, where all the major drivers of value – low interest rates, strong commodity prices/strong profitability, super deep buyer demand, and inadequate supply – aligned 'just right' to create incredible upward momentum rarely seen. No question, 2021 was the most exciting market period I've ever had the chance to serve clients in, and the results across the Corn Belt have been impressive.
Iowa Land Values Jump 32% in 12 Months
Iowa farmland values took a massive jump over the last 12 months, increasing by a statewide average of 32.9%. The Land Trends and Values Survey from the Iowa Chapter of REALTORS® Land Institute, released in March 2022, shows an increase of 14.1% for the 6-month period of September 2021 to March 2022. This follows the 18.8% increase from March 2021 to September 2021.
Illinois Farmland on the Rise
Class A (Excellent) farmland in Illinois saw an increase in value of 26% according to the annual survey conducted by the Illinois Society of Professional Farm Managers and Rural Appraisers. Class B (Good) and Class C (Fair) quality farmland also showed significant year-over year increases in value coming into 2022. When compared to the Iowa market, Illinois land values lagged increases seen in Iowa, likely tied to a more difficult 2021 Illinois growing season.
Nebraska Land Values Jump Higher
Nebraska farmland values increased by 16% over the prior year, according to the early 2022 Nebraska Farm Real Estate Market Survey. This marks the largest jump in market value of agriculture land since 2014. Because of the wide differences in land type and quality, Nebraska values can vary significantly from region to region. For example, center-pivot irrigated land in eastern Nebraska can sell for well above $10,000 per acre, while non-irrigated cropland in the North/Northwest Sand Hills region can sell for less than $1,500 per acre.
Minnesota Farmland Finishes Strong
Minnesota farmland values entered 2022 on a tear, appreciating 30% year-over-year, according to the latest survey of farm bankers within the Minneapolis Federal Reserve Bank region. While input costs and commodity prices remain volatile and concerning, most ag bankers in this region predict that land values in Minnesota will remain stable or increase in 2022.
Future
After an incredible run like we had in 2021, the natural question is, "Can it continue?" For the answer to that question, I will point you back to the fundamental and underlying drivers of value, which I mentioned in the opening of this article. Interest rates, commodity prices/on-farm profitability, demand for land, and the available supply of farms for purchase, all individually and collectively influence farmland values. As is typical in a dynamic and constantly changing market like agriculture, we're beginning to see some shifts occur in the value-drivers.
Specifically, in the first half of 2022, interest rates have moved off the floor, with the U.S. Federal Reserve changing their easy-money posture. Mortgage interest rates have already moved higher. And there is an expectation that the Fed is going to keep rates moving up as they try to tap the brakes on the economy and get inflation under control. In addition, because of higher land prices, we do continue to see a little more land come to the market than in recent years. . This stands to reason, because most prospective Sellers prefer to sell in a strong market versus a weak one. Thus far, neither of these factors have shifted enough to change the general direction of the strong market, but, at some point they might. For now, they can and should be viewed as light headwinds.
As for grain prices and on-farm profitability, if we assume we will grow an average crop in 2022, this year holds significant profit potential. But with the ongoing war in Ukraine and other supply-chain issues, input prices going into the 2023 crop year are likely to eat into that profit, so margins may see some compression. As for demand to buy additional farms, I do not recall a time when demand for land has been as strong and widespread as it has been in recent months. And, that demand has come from both farmers and farmland investors. Farmers always want more land to expand their businesses, but will investors stick with farmland? It depends on their motive for entering the market.
Make no mistake, we still have a strong market. As we look forward for the rest of the year, however, it is becoming clearer to me that 2022 is not the "Goldilocks" situation of 2021. The base fundamentals of the land market have started to shift. As it happens, we will keep our finger on the pulse of it and will continue to share our perspective of what that means for the longer term.
---