Building a Family Legacy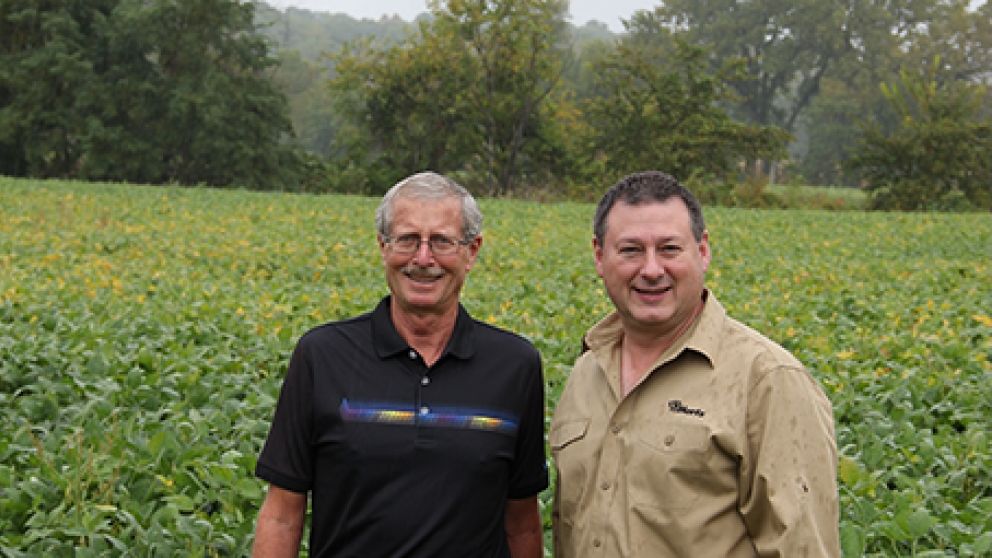 Growing up in Cedar Rapids, Iowa, Brown had never been on a farm. However, his wife Nancy and her family had a long history of farming. Nancy's father Ben Tomlinson farmed all the family's farmland for 44 years, and before him, his father-in-law did the same. As a result, the family now has two century farms near Clarinda, Iowa, including one that has been in the family for over 150 years.
When Ben Tomlinson retired, Brown and Nancy knew that getting a farm manager was their best bet to keep the farmland as an investment. At the time, Brown was working for Texaco and traveled the world doing business in a variety of different areas. "We were mostly remote, and we couldn't do it ourselves," said Brown. "I didn't know anything about farming and after Nancy and I got married we only came back a few weeks a year."
Before Hertz stepped in to manage the farms in 2012, Marty Mattes was the active farm manager for the properties. In fact, Mattes helped Brown buy his first piece of land. "We were in Belgium when the transaction went through," explained Brown. "That was sort of the start I would say." After that first buy, Brown ended up buying more properties while he and his wife lived around the world in other places like Saudi Arabia, London, New York, Paris, and Texas. "I saw what we were buying as an investment, and frankly it's been a very good investment."
Improving the Farm
Over the years, Brown has decided to put money back into the land and make improvements. "Whatever we had, we wanted to make it better," said Brown. "Our intention was to improve the productivity of the land." Brown and Mattes both agreed in what they referred to as a "three-phase plan" for some marginal ground, which called for clearing off the land, putting in terraces, and installing tile.
In 2011, Hertz acquired Mattes' farm management firm and took over management of the Brown farm. When Scott Henrichsen took over as farm manager in 2014, he helped to finish up the three-phase plan and continues to make improvements to the farms to improve yield performance and increase value. "We did some refurbishing of several old government bins," said Henrichsen. "We made the best use without building another bin, which has worked out well."
In addition to refurbishing bins and fulfilling the three-phase plan, Henrichsen also made some changes to fertility. "We were fortunate because we made some adjustments in how we did our fertility," he explained. "It was a combination of soil testing and changing up how we were applying the fertilizer." Because of the change in the fertility plan, that farm had one of the highest yields it had ever seen.
Brown expressed that while he cared a lot about productivity, he also wanted to make sure he was being a good steward of the land. "We've participated in opportunities to use filter strips and things that are conservation oriented over the years," said Brown. Henrichsen added that Brown wanted to make improvements to the farm and increase investment without jeopardizing the land. "Obviously, we wanted to maximize yield potential," said Henrichsen. "But you don't want to sacrifice the stewardship of the ground."
Growing White Corn
Last year while investigating new ways to increase profits, Henrichsen and Brown both agreed to try something different. "We did a specialty contract last year and we raised white corn," explained Henrichsen. "The results worked out better than I could have ever hoped for."

While the decision to raise white corn paid off, getting there was no easy feat. Henrichsen explained how there's more work that goes into the process of raising white corn compared to yellow corn. "It's a lot more coordination, it's probably one and a half times the work but the benefit was significant in terms of what the premium was."
Brown was pleased with the turnout that came from the decision to grow white corn. "It worked out well for us and it was a good year," said Brown. When asked if he would grow white corn again, Henrichsen had this to say. "I'd do it again, as long as the premium makes sense."
Working Together
Communication has really been the key for both Brown and Henrichsen as they've worked together over the last couple years. Brown expressed that Henrichsen has been helpful at keeping him up to date with what's going on with the farms. "We appreciate the reporting and data provided. He's done a great job for us."
Henrichsen expressed that good communication between not only him and Brown but also former manager Marty Mattes has been the key to success. "There was a positive transition that we've been fortunate enough to maintain. I can call Marty up anytime with questions and he's been eager to help."
The former chemical engineer also appreciated Hertz's relationship with local farm operators. "Sometimes we're storing grain from several different operators in one bin and that can be challenging," Brown said. "Scott (Henrichsen) does a good job at making sure it all comes together."
Coming Home
Now retired, Brown and his wife Nancy now live in Clarinda where he enjoys being close to family, working with the Clarinda Foundation, and riding in RAGBRAI. And while Brown's start in owning farmland happened because of his wife and her family, his investment in farmland has grown into a deep appreciation for the land and the people who work it.

---