Benefits of On-Farm Grain Storage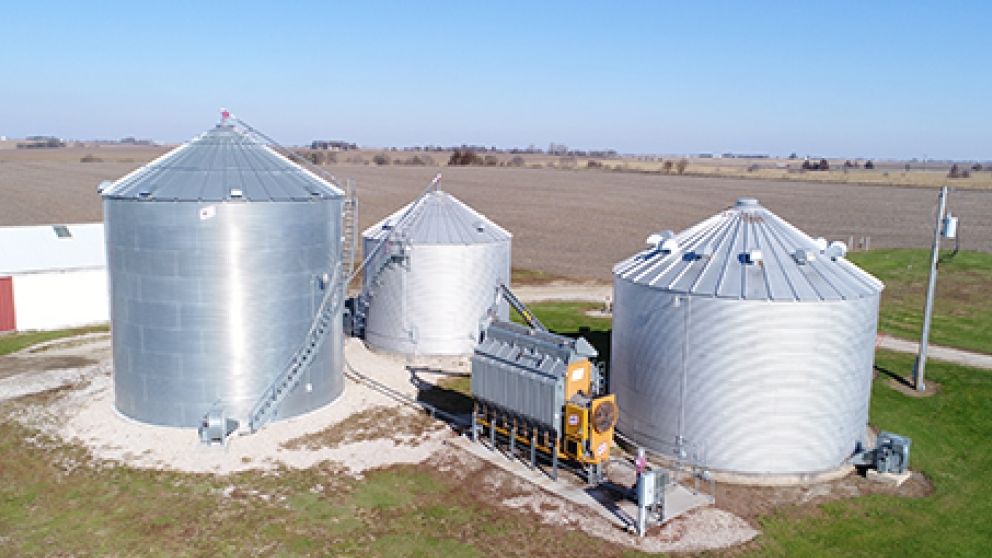 After drainage tile or irrigation, the highest returning improvement to mid-west landowners is most often on-farm grain drying and storage. This fact became apparent again in the fall of 2017 as interior basis levels at river locations in the cornbelt reached historically wide levels for corn and soybeans, resulting in lower than expected cash prices.
Dry conditions in the eastern cornbelt in late summer led to a drop in the Mississippi River resulting in limited and even eliminating barge traffic during harvest. The barges that did travel had smaller load sizes to be able to navigate the shallow waters. This led to a spike in barge rates that were double to triple normal rates. Storage and logistical problems were magnified by a large amount of 2016 corn delivered by farmers to the market just prior to the 2017 harvest. Facilities were already short of storage as a large 2017 crop harvest began.
Producers who did not have on-farm storage were at the mercy of the local grain elevators and merchandisers. With an overabundance of grain at their facilities, many buyers forced farmers to sell upon delivery at the discounted prices. Selling at the normal harvest low was thus compounded by the record wide basis and lower than expected cash prices.
Producers who had on-farm storage did not face the same dilemma. They could store their crop during this unfortunate time and weather the storm. Basis levels still remain wide, but they are narrowing. Also, the carry in the market is attractive, allowing these same farmers to forward contract their sales for next spring or summer at significantly higher prices. On-farm grain storage puts you in control of your harvest and grain marketing decisions as noted by:
Harvesting 24/7 if you are hauling to your own storage versus a grain elevator.
Taking advantage of the carry in the market. You can delay sales three to six months into the future and be paid well for your patience ($0.20 – $0.40 per bushel)
Who you sell to. Sometimes your highest net price will come from a local elevator, at other times an ethanol plant or processor will have the advantage. If your crop is stored with the grain elevator, your only option is to sell to them.
The cost of installing an on-farm corn drying and storage bin is in the $2.50 to $3.50 per bushel range, depending upon the size of the bin and the amount of equipment. Historically, a grain bin has paid for itself within four to eight years of its construction. The combined benefit of lower drying costs, lower storage costs, less shrink, timely harvest, and more marketing options result in a quick pay back of the investment. Also, current IRS guidelines allow the option of either depreciating a grain bin over seven years or using it as an expense against income in the first year by utilizing IRS Section 179.
If you are looking for that next 12-20% return on your investment, consider on-farm grain drying and storage to put you back in control of your harvest and grain marketing decisions.
---