A Foundation for the Future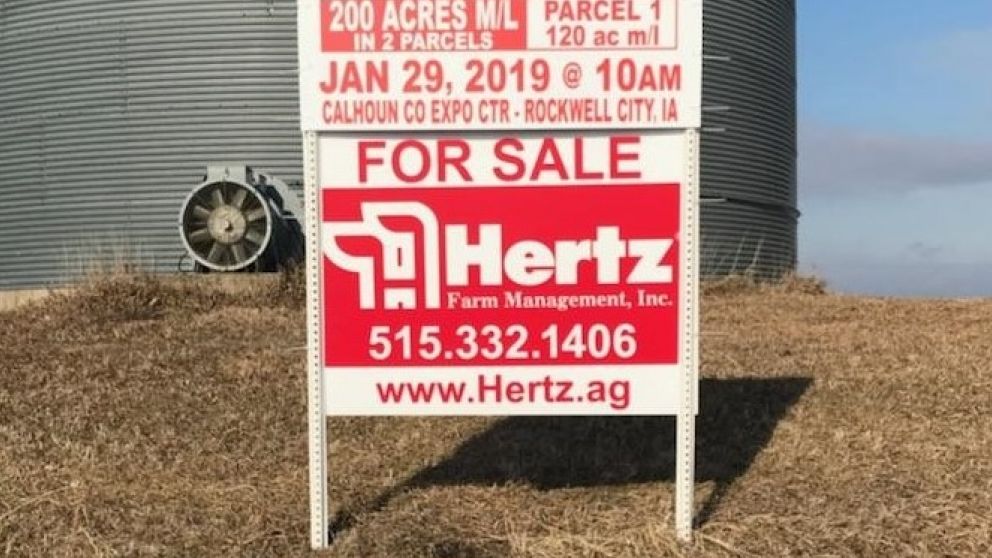 There's something about the Midwest that's different from other places in the world. Yes, traffic jams are usually caused by a tractor on the road, and some of our weekends are spent floating down a river or tailgating at a football game, but that's not what makes us different. It's the generous and caring people that make the flyover states a truly amazing place to call home.
At Hertz Farm Management we get to work with incredible people, but in this particular case, we were able to partner with people passionate about giving.
On Thursday, January 29, the Community Foundation of Greater Des Moines worked with Hertz to help sell a 200-acre farm in Calhoun County, Iowa at public auction. The farm was a generous gift to support the charitable interests of landowners, Steve and Linda Weitz. The farm ended up selling for a grand total of $1,792,000.
This wasn't the first time Hertz has had the opportunity to team up with the Community Foundation. In February 2018, the organizations had a very similar situation take place with a 176-acre farm in Benton County, Iowa. The donors of that property were Emily and Fred Weitz, Fred being the brother of Steve. Between both families, they helped raise over $4.3 million to establish a charitable giving fund at the Community Foundation!
The Weitz families wanted to leave a legacy that will support the pressing needs and promising opportunities of the community they care about. The gift of this Iowa asset was a tax-wise strategy that met their giving goals while also being a sound planning strategy.
"Thanks to the tremendous generosity of the Weitz Family, the Community Foundation of Greater Des Moines will use this gift of Iowa farmland to yield exciting, meaningful change for generations to come." – Kristi Knous, Community Foundation president
Before deciding to donate the farm, Steve and Linda had Hertz manage the farm for 26 years. The most recent Hertz Farm Manager to manage the Weitz property was Rick Dodds. "The Weitz family has been delightful to work with," explained Rick. "The property they gifted to the Community Foundation is greatly improved from when they acquired it."
The Community Foundation is proud to offer the Keep Iowa Growing program as an opportunity for Iowans to use agricultural assets to support the causes they care about. The generosity of Iowans, and Midwesterners in general, is demonstrated every day in the ways in which our communities gather around needs and opportunities to make us better together.
"We were delighted to have the special chance to serve the Community Foundation in handling the auction sales of the Weitz farms in Calhoun County here in January 2019, as well as in Benton County in early 2018," said Doug Hensley, President of Hertz Real Estate Services. "Their gifts to the Community Foundation represent the best that Iowa has to offer–great people giving of themselves towards a very worthy community-minded cause."
---