Kyle Hansen, ALC, to Serve as Realtors® Land Institute 2019 National President-Elect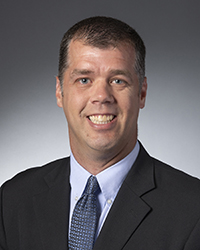 Hertz Real Estate Services in Nevada, IA, proudly announces that agent Kyle Hansen, ALC, will serve on the REALTORS® Land Institute Board of Directors as 2019 National President-Elect. Kyle will serve on the RLI National Board of Directors as a part of their Executive Committee alongside 2019 President Jeramy Stephens, ALC, of Stuttgart, AR, with National Land Realty and recently-elected 2019 Vice President Renee Harvey, ALC, from Paris, TX, with Century 21 Harvey Properties.
In this position, Kyle will continue to serve his four-year term on RLI's Executive Committee making him the association's 2020 RLI National President. He has served as Chair of RLI National's Future Leaders Committee and is an active member of the RLI Iowa Chapter as Chair of the Land Trends & Values Committee.
Kyle serves at an integral time for the organization as they continue to push forward into the final year of their three-year strategic plan, which has an overall goal of strengthening RLI's position as The Voice of Land. As a key pillar of that plan, land professionals can expect to see a full offering of newly updated Land University (LANDU) courses in 2019 as well as a brand new Recreational Land Real Estate course added to the program. Members of the organization will continue to see an increase in awareness among consumers of the RLI brand and will also benefit from the strengthening of RLI's local chapters, both being major goals of the strategic plan.
About his continued service on the RLI Executive Committee, Kyle stated, "I look forward to continue working with the Board of Directors, Executive team, and staff on behalf of our members to promote, educate and lead REALTORS Land Institute to be, "The Voice of Land". This organization has met a lot for my career and I greatly appreciate the opportunity to give back to the members that have helped me in the past, and will help me in the future."
The election also adds two At-Large Directors to the RLI Board. In an effort to give members a stronger voice into the direction of the organization, the addition of these elected seats were implemented in 2017. Out of the seven candidates running for an At-Large Director position, RLI is proud to announce the election of Bart Miller, ALC, of Mason & Morse Ranch Company in Glenwood Springs, CO, and David Hitchcock, ALC, of Coldwell Banker Commercial Saunders Real Estate, LLC, in Lakeland, FL, onto the 2019 RLI Board of Directors.
Founded in 1946, Hertz Farm Management is a farmland asset management company. It focusses on caring for farmland owners and their farms through professional farm management, farmland real estate sales, auctions, acquisitions, and farm appraisals. With 15 offices throughout the Midwest, it manages over 2,400 farms consisting of more than 550,000 acres. For more information, visit www.hertz.ag.
---