21 Hertz Farmland Professionals Recognized as Part of RLI's APEX Producers Club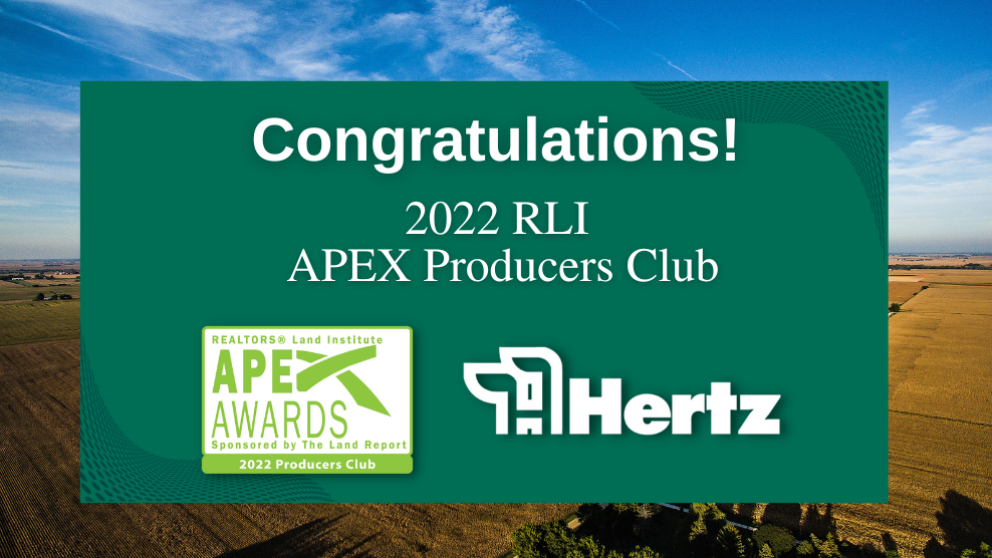 FOR IMMEDIATE RELEASE
March 16, 2023 (Nevada, IA) – Hertz Farm Management is proud to announce that twenty-one employees have been recognized as part of the 2022 APEX Producers Club by the REALTORS® Land Institute as a part of the RLI APEX Production Awards Program, sponsored by The Land Report. They were recognized by RLI CEO Aubrie Kobernus as well as The Land Report's Co-founder Eddie Lee Rider Jr. and Eric O'Keefe at a special awards ceremony on Tuesday, March 7, during RLI's 2023 National Land Conference (NLC23) in Denver, CO.
The Hertz Professionals recognized include Troy Coziahr, Terry Dean, ALC, Cal Dickson, ALC, Kyle Hansen, ALC, Rachelle Heller, ALC, Scott Henrichsen, Darrell Hylen, ALC, Ryan Kay, ALC, Chad Kies, Troy Louwagie, ALC, Brian Massey, Geoff Mead, ALC, Nick Meixell, Chad Reifschneider, Elliott Siefert, Chris Smith, ALC, Spencer Smith, ALC, Matt Vegter, ALC, Kirk Weih, ALC, Eric Wilkinson, and Brandon Yaklich. The REALTORS® Land Institute confers the esteemed Accredited Land Consultant (ALC) designation to only those individuals who have achieved the highest level of education, experience, and professionalism.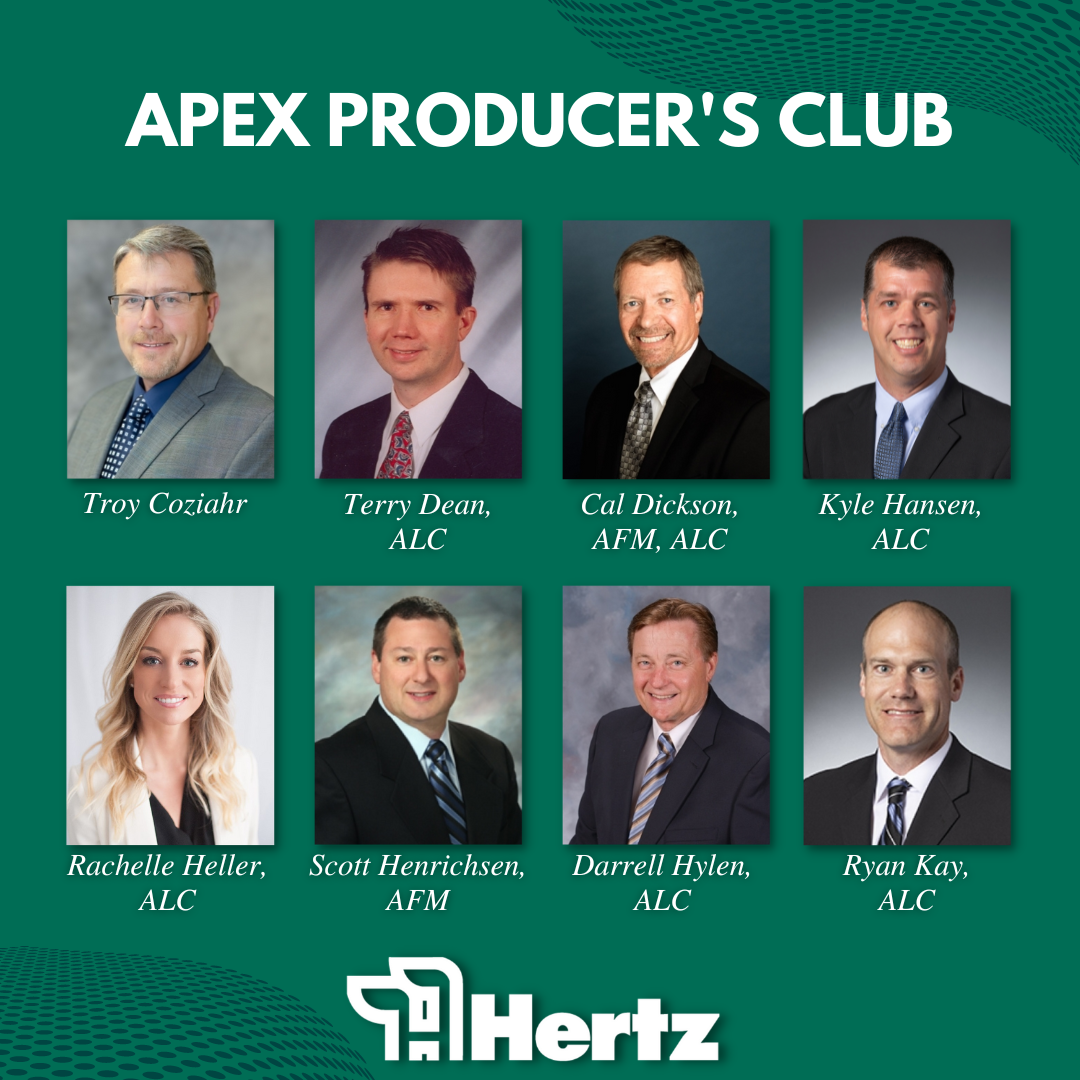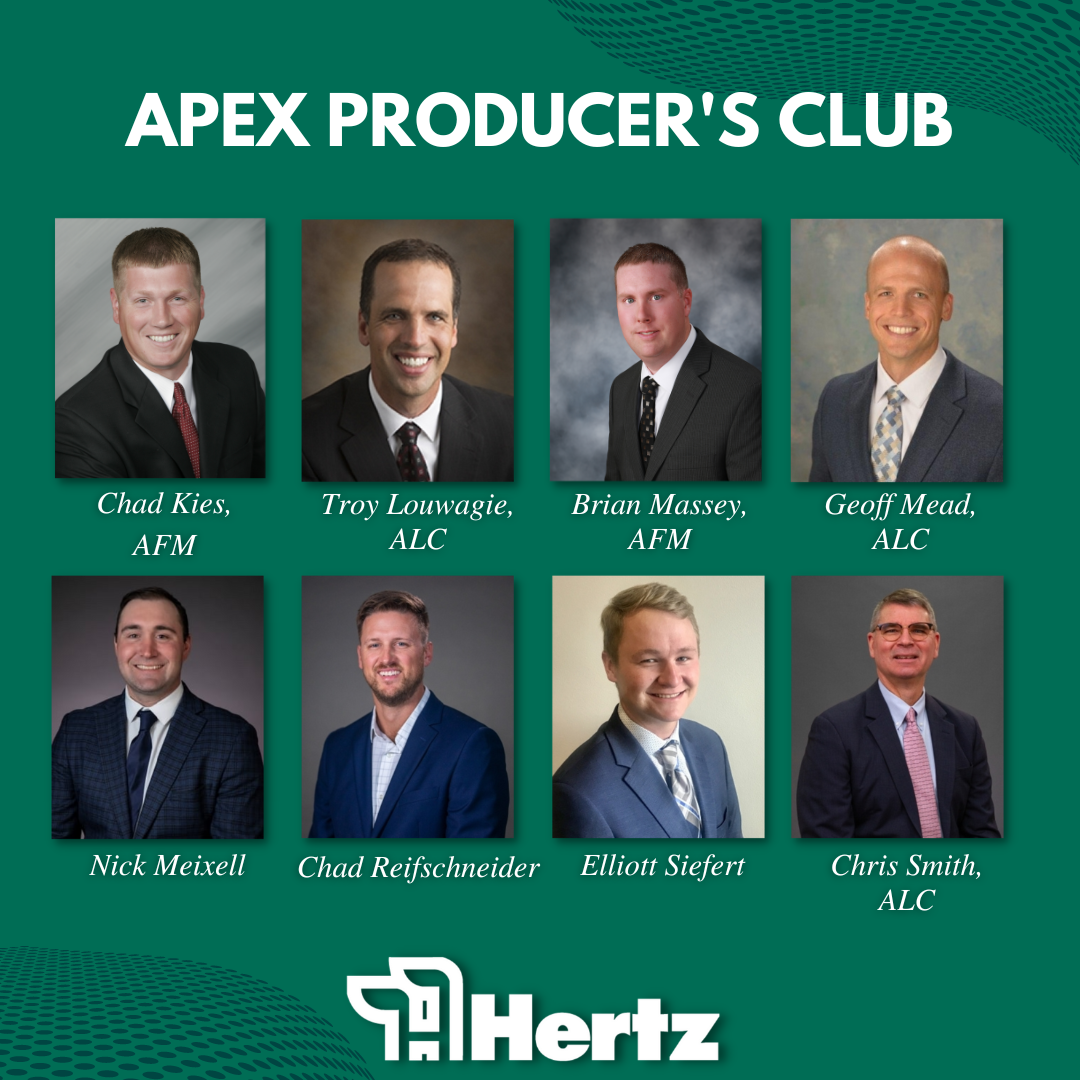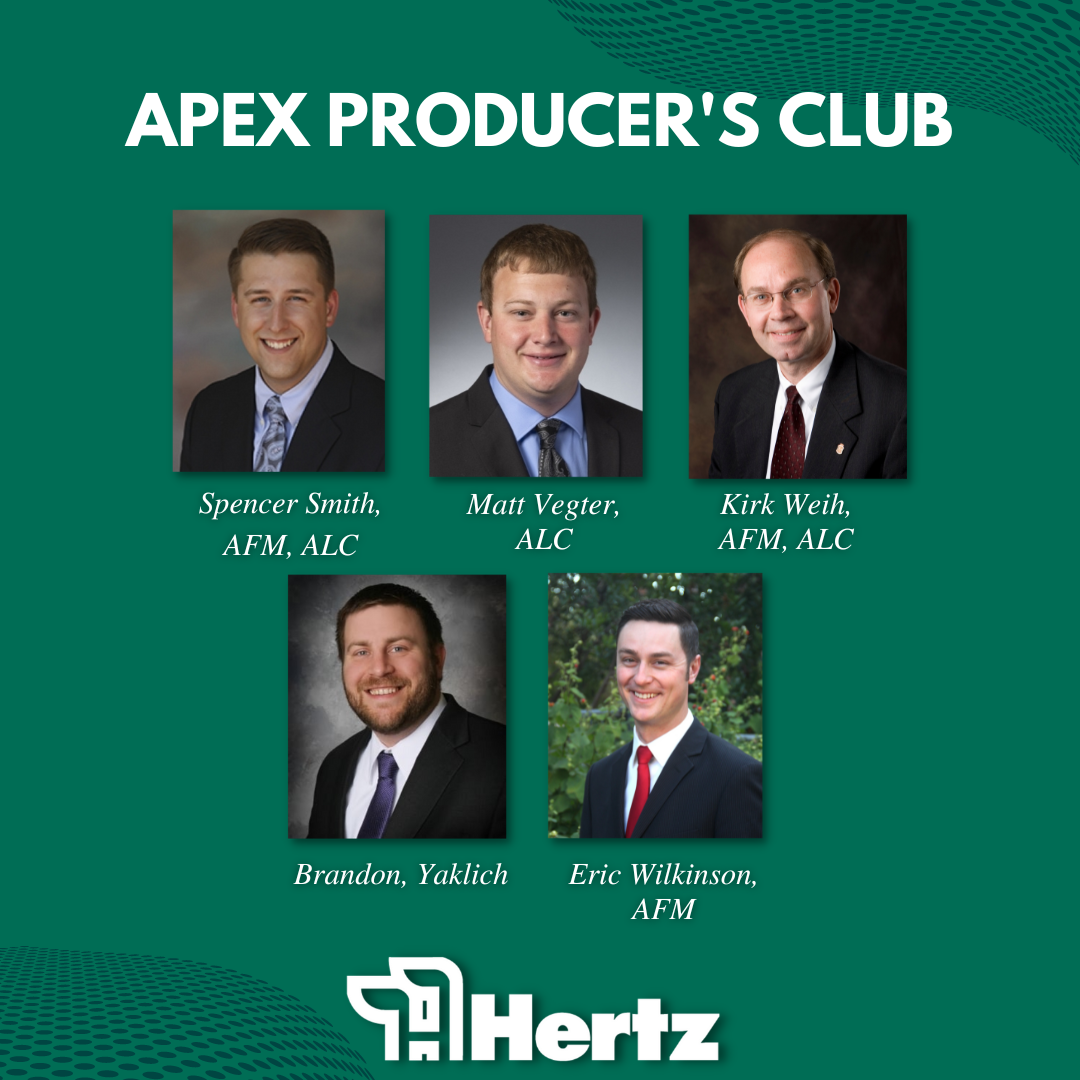 "We are proud of our Hertz land professionals helping farmland owners," said Hertz Farm Management CEO Randy Hertz, AFM, ALC. "Their dedication and professionalism make them some of the best people to work with in the land real estate business."
All land professionals recognized as part of the RLI APEX Producers Club are active members of RLI and have at least $5M dollars of qualifying dollar volume in closed land sales in 2022. The APEX Awards Program celebrated its sixth year by welcoming 217 applicants totaling a combined $7.0+ billion in qualifying transaction volume. For more information on the award winners, make sure to get a copy of The Land Report, one of the industry's leading magazines for landowners and land professionals, which will be publicizing the top winners in their upcoming Spring 2023 issue. All land real estate professionals are invited to join RLI and apply to the prestigious APEX Awards Program next year. APEX Award winners will be recognized next March at the 2024 National Land Conference in Louisville, KY. Learn more at rliland.com.
Founded in 1946, Hertz Farm Management is the premier farmland asset management company in the Midwest. It specializes in professional farm management, farm real estate sales, farmland auctions (live and online), land acquisitions, and farm appraisals. With 14 offices throughout the Midwest, Hertz manages over 2,900 farms consisting of more than 644,000 acres. For more information, visit www.hertz.ag.
---