Caring for you and your farm.®
Loyd Brown, AFM, ARA, ALC
Immediate Past President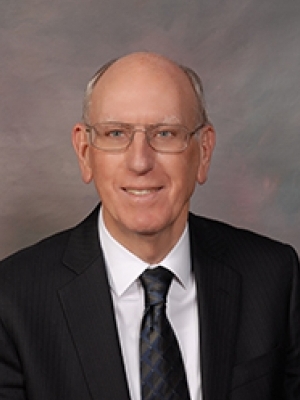 Contact Information
415 South 11th Street
P.O. Box 500
Nevada, IA 50201
515-382-7911
loydb@hertz.ag
"The relationships we develop with our clients are our most important assets."
Education
B.S. Agricultural BusinessFarm Management, Iowa State University
Licensing
Licensed Real Estate Broker in Iowa, Hertz Real Estate Services, Inc.
Accreditation
Accredited Farm Manager, American Society of Farm Managers and Rural Appraisers
Accredited Rural Appraiser, American Society of Farm Managers and Rural Appraisers
Accredited Land Consultant, REALTORS® Land Institute
State Certified General Real Property Appraiser
Biography
Loyd started with the company in 1969. In 1980, he moved to Mt. Vernon, IA, to manage that office before coming back to the Nevada, IA, office in 2000 to assume the role of President. He has served on the Board of Directors for Hertz since 1975. He has managed, appraised, sold and acquired properties for clients for more than 40 years.
Loyd has served as a consultant with top agricultural investment firms across the country, providing updates and insights into the agriculture markets. He has also been featured in the Wall Street Journal, Bloomberg, Reuters and other national publications, as an expert resource in agriculture and agriculture markets.
In 1995, the Ag Business Club at Iowa State University named Loyd as the Outstanding Agribusiness Person of the Year. In 1998, the Iowa Chapter REALTORS® Land Institute recognized him as the Farm and Land Broker of the Year. He is an active member of the American Society of Farm Managers and Rural Appraisers (past national chairman of the Accrediting Committee and past president of the Iowa Chapter) and Iowa REALTORS® Farm and Land Institute (past state president). Also, he is a past trustee of the Iowa State University Agricultural Foundation.
Loyd grew up on a farm in central Iowa and owns farmland in Story County. He has served as president of the Nevada Lions Club, the Mt. Vernon-Lisbon Rotary Club, the Mt. Vernon and Nevada Chambers of Commerce, and the Nevada Rotary Club. He was elected into the Nevada Rotary Hall of Fame in 2015. Loyd serves on the Nevada Economic Development Council and is an active member of the United Methodist Church. Loyd and his wife Sue have three children and seven grandchildren.