Iowa Farmland Values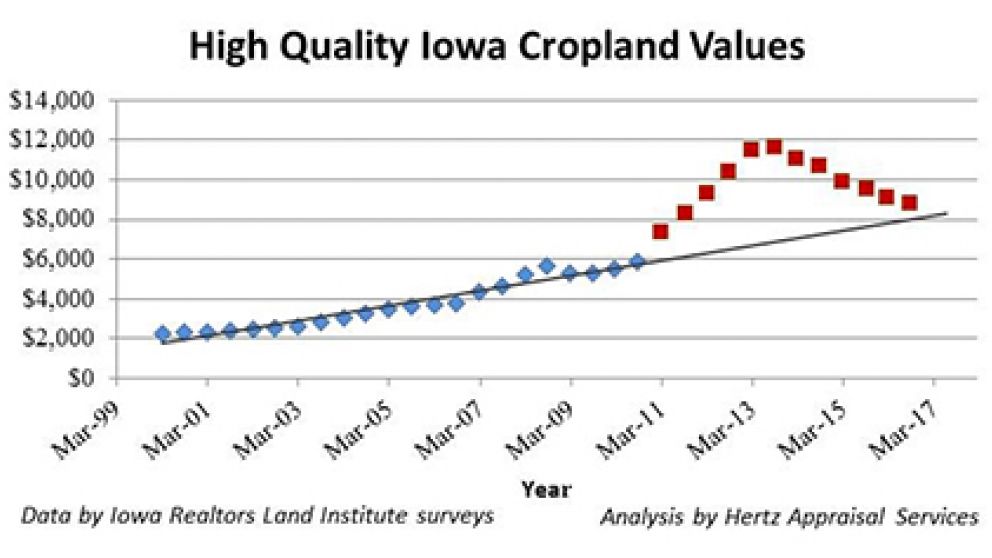 Published survey results by Iowa State University Extension and the REALTORS® Land Institute (RLI) show farmland values are continuing to weaken. Conversely, some local farmland brokers are claiming values have stabilized and strengthened. What's really going on? Are values continuing to fall or is there a quiet resurgence of value?
Like many things in real estate – it depends.
The RLI survey is published every six months and is the basis for the following graph. The blue data points represent approximately 10 years of survey results preceding the dramatic upturn in row crop farmland prices. The red data points show the upswing and subsequent retracement in recent years.
The survey shows prices are nearing the long term trend line. If you squint really hard it looks like the rate of decline is beginning to lessen as we get closer to that trend line. To dig a little deeper we reviewed actual sales data from the last two years.
Because the goal was to better understand farmland prices, the data was filtered by the following criteria:
1. 85% tillable or more.
2. Includes less than 10 acres of any of the following: pasture, timber, or CRP.
3. No buildings of value on the property.
These filters resulted in a data set of 590 sales sold either by listing or auction between January 2015 and December 2016. To accommodate differences in land quality, prices were converted to a price per CSR2 indication.
The trend line shows the overall market has stabilized, and is ever so slightly showing strength! Nobody was predicting this earlier in the year, but that is indeed what the data shows.
However, the data is also showing a widening range of values compared to late spring/early summer 2016. In late spring/early summer the range was $70 to $130 per point, but that range has exploded by year end with a range of $60 to $170! Local market dynamics and farm specific appeal are impacting prices a great deal.
Just look at how many data points are below the line…how many are above the line…and how far apart in price they are. The data supports claims of continued decline in some areas, as well as claims that some markets are experiencing an increase.
Appraisers and real estate agents in our company are seeing what others are seeing: good farms in strong neighborhoods will likely sell well; poor farms in less aggressive locales will sell soft. Admittedly "it isn't rocket science", but in some ways it is more difficult. Knowing the local dynamics is often "more art than science". The important thing is to find a highly qualified professional to provide the right guidance.
So, back to our original question: Are values continuing to fall or is there a quiet resurgence of value?
It depends!
Hertz Appraisal Services provides agricultural real estate valuation. Please call or email if you have questions or if we can help in any way.
---